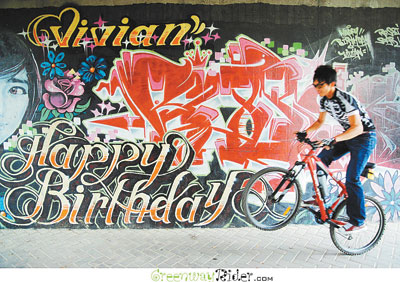 Wang Yuanyuan
    cheekywang@hotmail.com
    SHENZHEN has been seeing fast construction of hiking and cycling tracks, also known as green tracks. As of the end of last year there were 347 kilometers of green tracks on the Guangdong Province network. Moreover, the city had completed 772 kilometers of urban green tracks and 1,091 kilometers of community green tracks by the end of 2012. Below are some of the most beautiful tracks for cyclists to enjoy the beautiful city.
    Shenzhen Bay section
    — The most romantic ride
    This section is from the Mangrove Park in Futian District to Shenzhen Bay Bridge in Nanshan District. The track passes through 12 theme parks and lies by the beautiful Shenzhen Bay coast. Riding along the section with lovers in the evening may be one of the most romantic things you can do after a busy day.
    Where to get started: Mangrove Park, Binhai Boulevard; or any entrance along Binhai Boulevard and Dongbin Road in Nanshan District
    Meilin'ao section
    — The most close-to-nature ride
    The section hides in the mountains in Futian and Nanshan districts. On one side, cyclists can have a bird's-eye view of the modern skyscrapers in Futian District; On the other side, cyclists can enjoy fresh air and green mountains in the quiet getaway.
    Where to get started: Meilin Reservoir, Meilinyicun, Futian District
    OCT community track
    — The most cyclist-friendly ride
    The section is the city's first community track built just for cyclists. There are trees planted along the track, making the ride more comfortable in hot summer. It is also an ideal track for families to spend a joyful weekend.
    Where to get started: OCT Plaza, Overseas Chinese Town, Nanshan District
    Futian River section
    — The most ecological ride
    Futian River section is a typical community waterfront track. The six-kilometer-long track passes through the central Futian District from Bijia Mountain to Binhe Road. With beautiful trees, flowers and rivers along the ride, you may make different discoveries in the busiest downtown area of Shenzhen.
    Where to get started: Bijia Mountain Park, Huanggang Road, Futian District