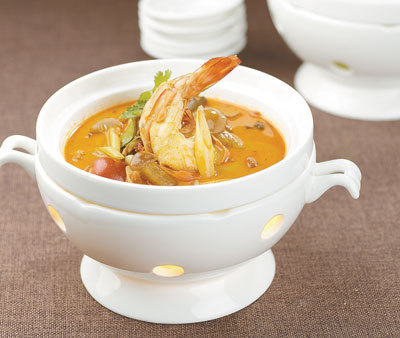 LOCATED on the sixth floor of New City Plaza, Futian District, Prince Kitchen celebrated its 10th birthday Thursday with a continued commitment to providing customers with a fashionable and romantic eating environment.
    Although New City Plaza has been going through a renovation, Prince Kitchen has maintained its popularity among Shenzhen residents with its high-concept fusion cooking, featuring various delicious cuisines, including Guangdong, Sichuan, Thai, Japanese and Western foods.
    The restaurant's confidence in providing a variety of high-quality food stems from the top skills and innovation of almost 70 cooks.
    Thai food is one of the highlights offered by the restaurant. Lian, a seasoned cook who used to serve the royal family in Thailand, has been serving the restaurant for 10 years.
    Besides yummy food, the restaurant boasts warm lighting, soft music and cozy sofas, which combined together reflect the minimalism favored by David Chen, an internationally well-known restaurant designer.
    "Prince Kitchen may be lovers' favorite place to make a proposal," said Ding Weidong, the restaurant's deputy general manager.
    While appreciating Shenzhen residents' continuous support, Prince Kitchen will stick to pursuing fashion and romance, making continual efforts to provide a high-quality but affordable dining experience.
    (Martin Li)