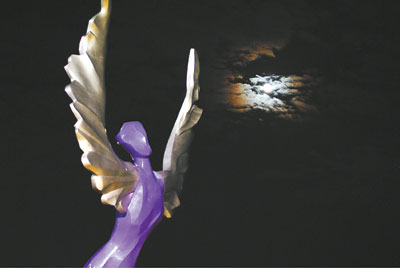 THE best time to appreciate the beautiful full moon on this year's Mid-Autumn Festival, which is Thursday, will be 7:13 p.m., staff at the city's observatory said. Meteorologists said the moon will rise from the east at about 6 p.m. and appear at its roundest at 7:13 p.m. Skies are expected to be very clear in Shenzhen.
    As two of the most popular summer resorts in Shenzhen, Dameisha and Xiaomeisha promise golden sand beaches and clear seawater. They draw more than 10,000 swimmers on weekends and public holidays during summer and autumn.
    Dameisha features several giant, striking sculptures of winged figures, and Wish Tower at the center of the beach is a soothing place to go with loved ones. An elevator carries riders to a sightseeing platform 62 meters above the sand, where no one can miss the vast sea and beautiful moon.
    Xiaomeisha is another ideal place, and has an admission fee of only 20 yuan (US$3.25). As one of the oldest resorts in Shenzhen, locals love the 1,000-meter-long beach, where they enjoy sailing, jet skiing, sea kayaking and diving. Southwest of the beach, there is a small, serene rocky island where you can idle the hours away sea fishing with friends.
    Dameisha Add: 94 Dameisha, Yantian District (盐田区大梅沙94号)
    Buses: 53, 103, 239, 360, 364 Dameisha Stop (大梅沙站)
    Xiaomeisha Add: Xiaomeisha, Yantian District (盐田区小梅沙)
    Buses: 103, 360, 364, 380, 387 Xiaomeisha Stop (大梅沙站)
    Shenzhen University
    Situated near Houhai Bay in Nanshan District, Shenzhen University is one of the most beautiful and modern universities in the country.
    Covering 1.4 million square meters, the campus features contemporary classroom buildings shaded by trees and blended into the natural scenery. It is a place not only for study and scientific research, but also for spending time with friends and loved ones.
    Wenshan Lake is on the west side of the campus, next to Dujuan Hill. A university landmark, the lake is ringed by trees and flowers. Lying on the grass by the lake under litchi trees and chatting with friends and family under the beautiful full moon would be a great way to celebrate the Mid-Autumn Festival.
    Add: 2336 Nanyou Road, Nanshan District (南山区南油路2336号)
    Metro: Luobao Line, Shenzhen University Station (深大站), Exit C
    Sea World
    Sea World is a popular, lively area for expats and locals alike, featuring about 40 restaurants and bars offering diverse global cuisines.
    Sea World is a bustling nightlife spot where expats, young professionals, families and children can relax. There are some play facilities for children on the square, a recommended spot for a Mid-Autumn night out.
    Add: Intersection of Xinghua Road and Taizi Road, Shekou, Nanshan District (南山区蛇口兴华路与太子路交汇处)
    Metro: Shekou Line, Sea World Station (海上世界站), Exit C
    (Wang Yuanyuan)