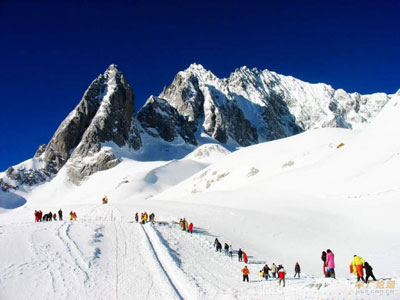 IT'S now the best time of the year for skiing in China, and you don't necessarily have to travel to the northeast of China for snowy fun. There are some areas in the southern part of China which also provide good facilities and magnificent views for skiers who don't have so much time or such a high budget. The weather and environment are also more comfortable, which are perfect for those who are used to Guangdong Province's warm weather.
    Yushe National Forest Park, Guizhou Province
    Operation time: December to February
    Located in Liupanshui, Guizhou Province, the ski field at the Yushe National Forest Park is one of the warmest ski fields in South China, which is perfect for children and the elderly.
    The park is about 2,200 to 2,500 meters above sea level and its annual average temperature is about 12 degree Celsius. In the winter, there are about 35 days for skiers to enjoy the snowy fun, and the park can also lengthen the field's operation time by providing artificial snow.
    The field also has professional ski coaches hired from northeastern areas of China to teach new learners.
    Besides skiing, the park is also an ideal place for families to enjoy a relaxing getaway. It includes of a sightseeing area, amusement park, comprehensive services, forest exploration and developing areas.
    Due to its warm temperature, you don't have to wear heavy clothes to enjoy the beauty of the snow.
    There are also some folk festivals held in the winter, and relaxing well-facilitated spa treatments are also offered to skiers.
    Transport: Fly to Guiyang, capital of Guizhou Province, from Shenzhen airport and take a train to Liupanshui.
    Yulong Snow Mountain, Yunnan Province
    Operation time: November to March
    The ski resort in Yulong Snow Mountain is the highest ski resort in China.
    It has long been famous for its pure, unspoiled, natural snow resulting from its high altitude. The resort is 4,500 to 4,700 meters above sea level and is covered with snow all year-round. The ski park measures 1,000 meters in length and 600 meters in width.
    Many skiers have been drawn to the resort for its picturesque scenery. While skiing, you can enjoy a bird's-eye view of the alpine lakes, rivers, grasslands and all types of modern glaciers scattered below.
    Shanzidou Peak, the highest peak, looks to be only several meters higher in front of you but is actually about 5,700 meters above sea level and remains one of the unconquered mountains in the world.
    After the exciting experience at the ski resort, you can also take a break at Lijiang Ancient Town, a city preserving the brilliant culture of the Naxi minority group. As one of the most popular ancient towns in China with a history of more than 800 years, it is an ideal place to experience old-time architecture and culture. There are also many Western-style bars and traditional restaurants in the area.
    Transport: Fly to Lijiang from Shenzhen airport and take a coach to Yulong Snow Mountain.
    (Wang Yuanyuan)