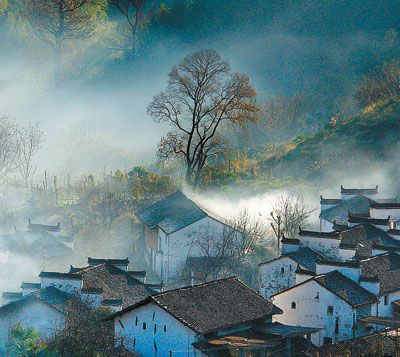 ALTHOUGH the Spring Festival is an occasion for family reunions, it is also one of the most popular seasons for travel and sightseeing. If you don't want to spend your holidays at the usual overcrowded tourist attractions, here are some ideal destinations.
     Hailuogou, Sichuan
    Situated in the southeast of Ganzi Tibet Autonomous Prefecture of Sichuan Province, Hailuogou is famous for its beautiful ice scenes and natural hot springs during the Spring Festival period.
    The Hailuogou Glacier is a maritime glacier with the lowest altitude in East Asia. It is also the longest glacier among the 74 glaciers in Gongga Mountain, known as the "king of the mountains in Sichuan Province." The glacier is 14.7 kilometers long, covering an area of 23.2 square kilometers. The highest peak is 6,750 meters above sea level, while the lowest is 2,850 meters.
    There are magnificent waterfalls, enormous ice caves, dangerous ice bridges as well as several well-known hot spring resorts in the area.
    Transport: Fly to Chengdu from Shenzhen airport and take a coach to Hailuogou from the New South Gate Tourism Transportation Center.
    Wuyuan, Jiangxi
    Tucked between scenic Huangshan Mountain and Sanqing Mountain, Wuyuan has been dubbed the "most beautiful countryside in China." Although the most popular season in Wuyuan is in March and April, when golden rape flowers are in full bloom, it is still fun to explore the ancient town during the quiet Spring Festival holiday.
    Many people don't know that Wuyuan is a heaven not only for rape flowers but also for birds, and the Spring Festival holiday is the best time for bird watching in the area. For example, the Yuanyang Lake is the largest habitat for wild mandarin ducks in China.
    Wuyuan has at least 50 well-preserved, century-old villages. The area is dotted with Huizhou-style houses with white walls, black roofs, elegant eaves, dark green paving stones, all relics of the country's glorious past. There are also many local delicacies such as dried fish, mashed tofu, sweet and sour gooseneck and fruits.
    Transport: Fly to Jingdezhen from Shenzhen airport and get to Wuyuan by coach.
    Zhuxian, Henan
    Zhuxian Township is only about 20 kilometers away from Kaifeng City, a well-known historic and cultural city in China. Since the Tang Dynasty, Zhuxian has been an important business hub, and the houses along the streets still tell stories of the area's glorious history.
    The town is also well-known for special wood engraving Spring Festival pictures. The wild styles and vivid colors make the pictures one of the most precious folk arts in China. There are many art studios of the kind in the area. Many are built in traditional residential houses with old trees and sculptures. The Spring Festival pictures in Zhuxian are normally themed on historical operas, novels and myths.
    Another must-see spot in Zhuxian is a mosque which was built in the Northern Song Dynasty. The mosque has a unique style with special decorations which are rarely seen in China.
    Local delicacies include fried jelly, rice cake, lamb in baked bun, dried rabbit, noodles and spiced dried tofu.
    Transport: Take a train to Kaifeng from Shenzhen railway stations and take a bus to Zhuxian.
    Longmen, Zhejiang
    Located in the Longmen Mountain area in Zhejiang Province, Longmen Ancient Town is only about 50 kilometers away from Hangzhou, capital of Zhejiang Province. It has pretty much everything a tourist could want in a small town with stone streets, narrow lanes, old buildings, ancient temples and a relaxing way of life.
    Many of the buildings in the town have a history of more than 300 years. More than 90 percent of the people living in the town are surnamed Sun as they are descendants of Sun Quan, king of the Wu State of the Three Kingdoms. The people there still have a traditional lifestyle. It is an ideal place for those who just want to spend their Spring Festival relaxing in a quiet Chinese town.
    Transport: Fly to Hangzhou from Shenzhen airport and take a bus to Fuyang County. Get to Longmen by minibus from Fuyang. (Wang Yuanyuan)