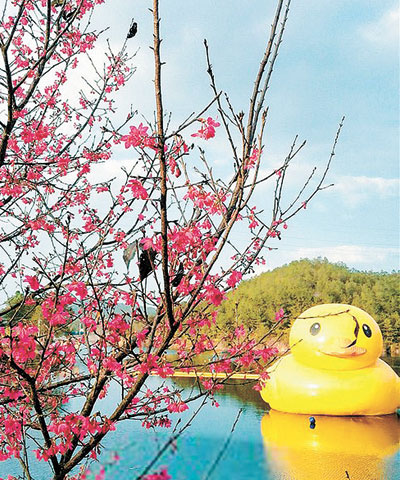 WHEN thinking of cherry blossoms, Wuhan University in Hubei Province and Japan may be the first two places that pop into your mind. In fact, you don't have to travel a long way to enjoy the beautiful and romantic sights of the flowers as there are several places here in Guangdong Province where you can view them with friends and families.
    Xinfeng, Shaoguan
    Guangdong Province may not be the most obvious place for cherry blossoms to thrive, but Xinfeng County in Shaoguan City boasts Cherry Blossom Valley, a location not far where visitors flock to see the plants.
    The trees at the park, which is the province's first agricultural tourist spot featuring cherry blossoms, have been planted arbitrarily on hills, by rocks and beside houses, giving the place a more natural style than a nature reserve.
    In spring, the park becomes a sea of pink and white.
    The best time for seeing cherry blossoms in Shaoguan is from the beginning of February to the end of March. Tickets for entering the valley are 25 yuan.
    The valley itself is an evocative place with many old houses and unique rock formations, making it a good place to go hiking all year around.
    Transport: Take a coach to Xinfeng from the city's major coach stations and take a taxi to the valley.
    Chengbei, Meizhou
    Adjacent to the Huangshakeng Water Reservoir, Chengbei Township in Meizhou City also has a beautiful Cherry Blossom Valley, which is only about 10 minutes' drive from the downtown area.
    There are some 10 varieties of more than 100,000 cherry blossoms in the valley. Due to their different flowering periods, you can see cherry blossoms in red, yellow, green and white from the end of January to mid-April.
    Besides cherry blossoms, the valley also has other plants such as calliopsis.
    There are three areas in the valley, including a cherry blossom forest, and Alice Mansion which contains a playground. The Alice Mansion area is also a fun place for children. There are castles and small European-style cottages of different kinds and in different sizes, making the area a true wonderland surrounded by beautiful cherry blossoms.
    Tickets for the valley are 30 yuan per adult.
    Transport: Take a coach to Meizhou and take a bus or taxi to the Cherry Blossoms Valley.
    Conghua, Guangzhou
    Located in Xihe Village in Conghua, Guangzhou City, the Trendsee Cherry Blossom Aulacese Park covers more than 45 hectares and is home to more than 100,000 cherry blossom trees. As one of the largest cherry blossom spots in China, it has a variety types of cherry blossoms which bloom in different colors and different periods in spring.
    The park, which is surrounded by mountains, is also an ideal place for spring hiking, with routes designed for appreciating cherry blossoms. Camping in cherry blossom woods is a must-try experience when visiting the park.
    The best time to see cherry blossoms is from the beginning of February to mid-March. Tickets for the park are 60 yuan.
    Transport: Take a coach to Conghua from the city's major coach stations and take a bus or taxi to the park.(Wang Yuanyuan)