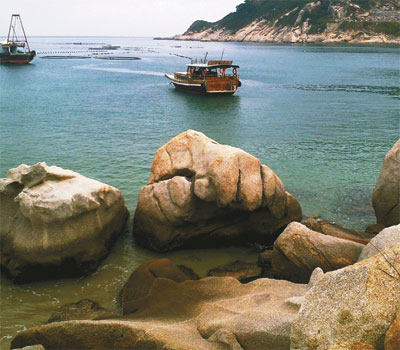 DONGCHONG and Xichong coastal lines in Dapeng Peninsula is known to many as one of the "eight most beautiful coastlines" in China and one of the "10 most beautiful hiking tracks" in China. However, situated in the west of Xichong, Egong Bay, which is little known by the public, was recently recommended by the Shenzhen city government as "the most beautiful bay in Shenzhen."
    A post on the city government's official microblog account praised Egong Bay for its natural beauty and put it in the limelight. Less than two hours from the city center is this quiet beach.
    Beautiful natural scenes
    Egong Bay, with a coastal line of about 500 meters, has the best beach with soft sand in Shenzhen. There are a large number of rocks in strange shapes by the beach, which form a beautiful landscape that makes the beach a great place for sightseeing, photographing and rock climbing, according to Chen Baoyuan, secretary general of the Dapeng New Area's tourism association.
    In the north of Egong Bay, there is a small waterfall called "Egong Waterfall." It is about 30 meters tall!
    An artificial fish reef was built in 2007, which provides venues and facilities for visitors to observe underwater corals and aquatic animals.
    Paogouling Hill, which is 429 meters tall, is the highest peak in Egong area. As the highest peak in the western Dapeng, it is the best place to have a bird's-eye view of Dapeng Peninsula. "In the spring time, the hill is covered with beautiful azalea. It is a very romantic place," Chen said.
    There is another bay called Dalu Harbor, which is just opposite to the bay. It only takes about 15 minutes by speedboat to get there from Egong Bay. Dalu Harbor is also an ideal place to enjoy water fun, mountain scenes and bird watching, Chen said.
    Ancient villages
    There are several ancient villages in the Egong Bay area.
    Located in Banshan Valley and the east side of the Dapeng golf course, Bantianyun Village was selected as one of the "most beautiful villages in Guangdong Province" by the provincial tourism industry in 2006. There are many ancient trees in the village. Among them, a tree called Qiufengwang has a more than 500-year history. Most of the houses in the village were built with green bricks. The quiet village is a nice place for enjoying a cup of afternoon tea and experiencing ancient, rural Cantonese scenes.
    Egong Village is also located in a valley between Egong Hill and Dapeng Bay. The village has a history of more than 200 years and is hardly known to the public. The village is named Egong because there is a rock shaped like a giant goose egg in front of the village.
    (Wang Yuanyuan)Travel tips:
    Although there are several hiking tracks on the cliffs along Egong Bay, it is not recommended to non-professional hikers. However, a new hiking track in the area has already been planned as part of the city's hiking track network, said Chen. When traveling along the Egong area, a pair of hiking shoes and gloves are must-haves, while equipment such as hats, sunblock and sunglasses are also needed to prevent sunburn.
    Bring several garbage bags with you since there are no garbage bins on the beach and in the mountain area.There are many local hostels and restaurants in the area and it is fun to hold a barbecue on the beach.
    Transport:
    Take a taxi or drive to Nan'ao Township and get to Egong Bay by speedboat. Cost for one-way ride of a speedboat is about 300 Yuan (US$47).