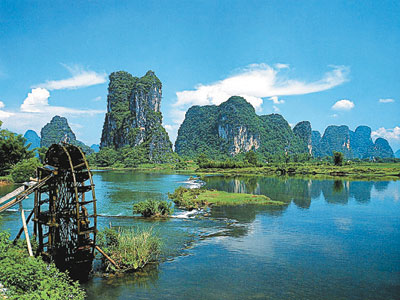 GUILIN, the Guangxi Zhuang Autonomous Region, is one of China's most picturesque regions and has long been one of the world's most popular travel destinations. The breathtaking scenery has attracted poets and artists for thousands of years. Taking a boat along the scenic Lijiang River is the most common way tourists enjoy Guilin's beautiful sites. Still you can choose to go off the beaten track, take a hike, and view the splendor of Guilin from a new angle.Route one: Xianggui
    Ancient Road
    Xianggui Ancient Road had been known as the "Silk Road in the South" for more than 1,000 years. Starting from Lingchuan in northern Guilin, the commercial route connects Guangxi with Hunan Province via Xing'an and Quanzhou. It used to be the busiest route for merchants in the area when the traffic along Lijiang River and Xiangjiang River was blocked.
    Today, the section of the route from Raoshan to Xing'an is still well preserved. Many buildings that date back to the Ming (1368-1644) and Qing (1644-1911) dynasties are still standing, and most villagers in the area still live a traditional lifestyle.
    It only takes one day to hike along the section, and you can choose to stay overnight in the area if you want to get closer to the local scenery and customs.
    Route two: Tiansheng Bridge
    Located in Xing'an County, Tiansheng Bridge is a natural karst landform. It is the only natural "bridge group" in the world. Around the area, four magnificent "natural bridges" connect to each other.
    In the neighboring area, there are other sites, including Upper Guilin Water Reservoir, Xiangjiang River headwaters, and Qin's Mansion in Shuiyuantou Village, which was built during the Ming Dynasty.
    Compared to other routes, this hiking route is more relaxing and is an ideal choice for new hikers wanting to practice their camping skills. The whole journey takes about two days.
    Route three: Mao'er Mountain
    Mao'er Mountain is the highest peak on Yuecheng Mountain. Crossing the areas of Xing'an, Ziyuan and Longsheng, the mountain is about 2,141 meters above sea level in a cat-like shape. It is the highest peak in southern China.
    There are a lot of precious plants and animals living on the mountain, and it has always been a popular route for hikers.
    The most common route is to climb to the peak via Tizi Hill. The total length is about 20 kilometers. There are plenty of service facilities, including restaurants, shops and accommodations along the route.
    Route four: Zhenbao Peak
    Zhenbao Peak, also known as Beibao Peak, is the main peak of Yuecheng Mountain. It is 2,123 meters above sea level and is the second-highest peak in southern China.
    There are 13 lakes in Zhenbao's southern area, all of which are located about 1,600 meters above sea level.
    The scenery from the peak is magnificent. Many hikers like to climb to the peak and enjoy a breathtaking bird's-eye view of Mao'er Mountain, Xing'an and Ziyuan. The total hiking journey takes about two days, and hikers can easily find food and accommodations along the way.
    Route five: Motian Mountain
    Located in Xing'an County, Motian Mountain is about 14 kilometers away from downtown Xing'an and is 1,078 meters above sea level.
    Although it is not as high as Mao'er Mountain and Zhenbao Peak, it is still well-known among hikers for its magnificent valleys and waterfalls. As it has not been developed as a popular tourist site, the mountain is an ideal choice for those who like natural sceneries and challenges.
    The recommended hiking route starts from Changqiuping to Rongjiang Township via the valleys. The entire journey takes about 12 hours.
    Transport: Fly to Guilin from Shenzhen airport and take a coach to your destination.
    (Wang Yuanyuan)