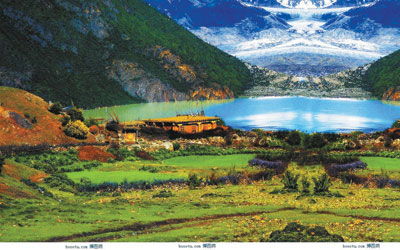 IF you are tired of the busy city life, why not take a break and explore the wonderlands of your dreams. Here are some recommended places across China that can bring your romantic dreams to life.Yishui Underground
    Fluorescent Lake,
    Shandong Province
    Located in Linyi City, Shandong Province, Yishui Underground Fluorescent Lake is an underground lake covering an area of 25,000 square meters. Known for its millions of fireflies, the lake is known as "fluorescent lake" to the locals.
    With proper humidity and a temperature of around 12 degrees Celsius all year round, the lake, which flows into a karst cave, is an ideal place to experience a romantic trip and explore the beauty of nature. Floating around in a boat, visitors can see many unique cave formations around the 1-kilometer-long lake dotted with millions of fireflies.
    Yishui is home to hundreds of natural karst caves and is known as the largest karst cave cluster in terms of scale in northern China. The caves range in length from several hundred meters to nearly 10 kilometers.
    Experts say these caves were formed between 65 million and 230 million years ago.
    Recommended spots include the Yishui Underground Gallery, Qianmi Cliff Drifting, the Butterfly Valley and Liangzhu Scenic Spot.
    Getting there: Fly to Qingdao, Shandong Province from the Shenzhen airport and take a coach to Yishui.
    Zhangjiajie,
    Hunan Province
    Located in Hunan Province, Zhangjiajie is known as one of the most beautiful mountain ranges in China, which is famous for its precarious peaks, limpid streams, dense forests, and large karst caves.
    Locals are proud to say that the amazing scenery in the area inspired Hollywood director James Cameron's depiction of Pandora in his movie "Avatar."
    Zhangjiajie is also a natural treasure trove. Ninety-five percent of the park is forested by more than 1,000 plant species. The area is also home to rare animals such as the red-billed leiothrix (also known as the Peking nightingale), pangolins (scaly anteaters), giant salamanders and rhesus monkeys.
    Recommended highlights include Glass Skywalk in Tianmen Mountain, Jinbian Stream, Huangshi Village and Yuanjiajie.
    Getting there: Take a direct train to Zhangjiajie from Shenzhen Railway Station.
    Jiuzhaigou Valley,
    Sichuan Province
    The famous Jiuzhaigou Valley is a nature reserve in northern Sichuan Province. It is known for its giant panda habitat, its many multi-level waterfalls and for its colorful lakes. It was declared a UNESCO World Heritage Site in 1992. It is part of the Aba Tibetan and Qiang Autonomous Prefecture.
    The name, meaning "Valley of Nine Villages," was derived from the nine ancient Tibetan villages that call it home. Its highest point is 4,700 meters above sea level, with the main sightseeing areas between 1,980 and 3,100 meters.
    There are 118 lakes in the area, all of which have an unusually high concentration of calcium carbonate. Waterfalls are the centerpieces of the scenery in Jiuzhaigou Valley. Because the temperature varies so much, the plant life is highly diverse, with a broadleaf forest at the foot of the mountain and a coniferous forest at the top.
    Getting there: Fly to Chengdu, Sichuan Province, from the Shenzhen airport and fly to Jiuzhaigou Valley from there.
    (Wang Yuanyuan)