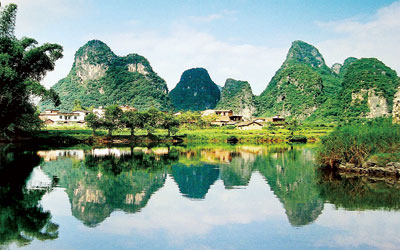 AN extension of the South China Karst site was officially added to the UNESCO World Heritage list in June at the 38th World Heritage Convention held in Doha, Qatar.
    The extension covers an area of almost 1,186 square kilometers. This serial site now includes 12 places spread over Guizhou and Yunnan provinces, the Guangxi Zhuang Autonomous Region and Chongqing Municipality. It contains the most significant types of karst landforms, including tower karst, pinnacle karst and cone karst formations, along with other spectacular characteristics, such as natural bridges, gorges and large cave systems.
    This summer, why not take your family and friends to explore the beauty of karst landscapes in China?
    SHIBING
    Guizhou Province
    Located in the eastern central region of Guizhou Province, Shibing is a beautiful mountain area that is home to 13 different ethnic groups.
    Shibing's karst landscape covers 283 square kilometers, including Yuntai Mountain, with a nominated area of 103 square kilometers and a buffer area of 180 square kilometers.
    The landform in Shibing has always been regarded as an excellent example of the world's tropical and subtropical dolomite karst. On the basis of ancient dolomite formed 570 million years ago, it has developed into a typical gorge karst.
    Due to its rich mountain resources, Shibing is also an ideal place for exploration. Recommended scenic spots include Shanmu River, Yuntai Mountain, Wuyang River, and Heichong Mountain.
    It is also known as a hub for ethnic minority culture and traditions. There are more than 300 ethnic minority villages with a total of 135 ethnic minority festivals and events. Among all the festivals, Lusheng Dance Festival, Dragon Boat Festival, and Sister Festival are the most popular.
    Transport: Fly to Guiyang from Shenzhen airport and take a train to Shibing.
    GUILIN,
    Guangxi Zhuang
    Autonomous Region
    Located in the Guangxi Zhuang Autonomous Region, Guilin is one of China's most picturesque regions and has long been one of the world's famous travel destinations.
    Guilin's most renowned feature is its dramatic karst terrain. Rising sharply at odd angles, limestone peaks look like giant teeth growing out of the green plain. Karst topography is characterized by many caverns and sinkholes that form by the dissolution of limestone or other carbonate rocks.
    Two types of karst landscapes dominate Guilin: fenglin (or peak forest) and fengcong (or peak cluster). The two types may have evolved sequentially, from peak forest to peak cluster, or simultaneously.
    One of the best ways to see the karst scenery of Guilin is to take a Lijiang River cruise. The river is widely considered to be the most beautiful river in Guilin, passing by much of the region's natural beauty.
    Some of the famous karst hills and caves in Guilin include Elephant Trunk Hill, Nine Horse Nine Fresco Hill, the scenery on the 20-yuan Chinese banknote, Fubo Hill, Reed Flute Cave and Crown Cave.
    Recommended foods include rice noodles, beer duck and fresh vegetables.
    Transport: Fly to Guilin from Shenzhen airport. (Wang Yuanyuan)