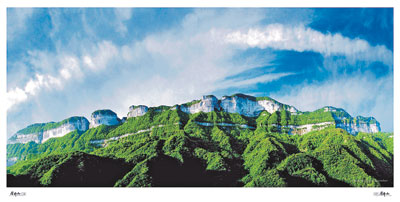 AN extension of the South China Karst Site was officially added to the UNESCO World Heritage list in June at the 38th World Heritage Convention held in Doha, Qatar.
    The extension covers an area of almost 1,186 square kilometers. This serial site now includes 12 locations spread over Guizhou and Yunnan provinces, the Guangxi Zhuang Autonomous Region and Chongqing Municipality. It contains the most significant types of karst landforms, including tower karsts, pinnacle karsts and cone karst formations, along with other spectacular characteristics, such as natural bridges, gorges and large cave systems.
    Here are two more places to explore the beauty of karst landscapes in China.
    Jinfo Mountain Chongqing
    Jinfo Mountain (Golden Buddha Mountain) is a national scenic spot and forest park located in Nanchuan District, Chongqing Municipality. Its karst landform covers 174.19 square kilometers.
    Jinfo Mountain is composed of the Golden Buddha, Baizhi and Jingba mountains, with 108 peaks in all.
    With gorgeous karst landscapes, a pleasant climate, and spectacular rock formations, it is one of the most popular tourist attractions in southwestern China.
    There are many scenic spots around the mountain. Among them, Gufo Cave (Ancient Buddha Cave) is the most popular one. The cave is a typical karst cave with magnificent and strange rocks, and it is a textbook example of karst landscapes.
    Other recommended spots around the mountain include Bitanyougu Scenic Area, Qianniuping Scenic Area, and Gaoxuezi Scenic Area. Among these, Bitanyougu Scenic Area is the most popular area for hiking and camping.
    Chongqing is also famous for its spicy cuisine. Recommended delicacies in the Jinfo Mountain area include spicy hotpot, noodles, dried beef, walnuts, chestnuts and square bamboo shoots.
    Transport: Fly to Chongqing from Shenzhen airport and take a taxi to Jinfo Mountain.
    Huanjiang
    Guangxi
    Located in the northwest of the Guangxi Zhuang Autonomous Region, Huanjiang County is a small town about 330 kilometers away from Nanning, the capital of Guangxi.
    The karst landscape in Huanjiang covers an area of 71.29 square kilometers. It has every type of landscape, from foothill karst structures to plateau karst structures. Around Huanjiang, there are peaks, valleys, caves and lowlands. It is not only a popular place to explore the beauty of karst landscapes, but is also an ideal place for studying karst landscapes.
    Huanjiang County is also the only home of the Maonan ethnic minority. There are also other ethnic groups in the area, including the Zhuang, Yao, Miao and Yaolao groups. Due to its large number of ethnic groups, Huanjiang is home to many special cultural events and customs, such as the wooden mask dance from the Maonan group and the Sister Dance Festival for the Miao group.
    Other recommended scenic spots in Huanjiang include Xianan Ancient Tombs, a memorial arch from the Northern Song Dynasty (960-1127), Yangmei'ao Scenic Area, Changmei Cliff Sculpture, and Wenyatiankeng.
    Recommended delicacies in Huanjiang include smoked baby pig, smoked duck, smoked beef and mushrooms.
    Transport: Fly to Nanjing from Shenzhen airport and take a coach to Huanjiang County.
    (Wang Yuanyuan)