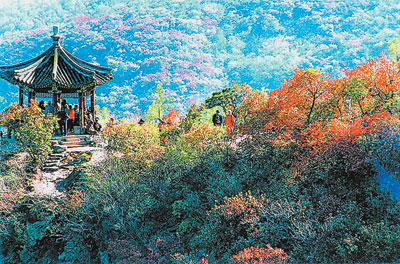 ONE falling leaf is a sign that autumn is on its way, says a Chinese proverb. Once again, China has entered its best season with red leaves, golden grasslands, and more impressive landscapes across the country. So why not take a tour with family and friends and experience the most beautiful autumn views in China.
    XIANGSHAN PARK,
    BEIJING
    ————————————————---
    Xiangshan Park, also known as Fragrant Hills, at the foot of the Xishan Mountain in Beijing covers an area of 188 hectares and consists of a natural pine-cypress forest, hills with maple trees, smoke trees and persimmon trees, as well as landscaped areas with traditional architecture and cultural relics.
    The park is one of the major tourist attractions in Beijing. Its scenery is most spectacular in the autumn, with fiery red smoke trees covering the mountainside.
    Smoke trees turn a brilliant red this time of year and can change their shade in the space of a day. The first few shimmers of early morning frost turn their leaves a sandy color, but as the frost fades, the leaves become more and more scarlet.
    Tourists can walk up the mountain on the east side but should take care because the steps are very steep. The west side switchback trail is easier. When tourists reach the top of the mountain, clouds often float around them, and one gets the feeling of walking in the sky.
    When visiting Beijing, local delicacies such as Beijing roast duck, hot and sour soup, sweet and sour spareribs, noodles and dumplings are must-tries.
    Transport: Fly to Beijing from Shenzhen airport, and then take a bus or taxi to the park.
    MOERDAOGA,
    INNER MONGOLIA
    —————————————————
    Moerdaoga National Forest Park is the first national forest park built in Inner Mongolia. Covering an area of 57.8 hectares, it is the largest forest park in China. In autumn, it attracts photographers from all over the world.
    Located in the Greater Xing'an Mountains, the country's largest virgin forest, Moerdaoga is one of the best places to see larch trees and white birches.
    The park features mountains, virgin forests, rivers, islands, folk villages, and has plenty of natural wonders to enjoy, making it an ideal resort during all four seasons.
    "Moerdaoga" means "go to battle on horseback" in the Mongolian language. There is much more to see other than the forests. Erguna, where Moerdaoga sits, contains a wetland park with an undisturbed national eco-system and the only Russian ethnic township in China where visitors can experience Russian cultures.
    Other recommended places in the neighboring area include Ejina, one of the world's three remaining diversifolious poplar forest and Juyan Oasis, the country's largest and oldest diversifolious poplar forest. When visiting Inner Mongolia, buttered tea and roast lamb are the most recommended delicacies.
    Transport: Fly to Qiqihaer from Shenzhen and take a train to Moerdaoga.
    MIYALUO,
    SICHUAN PROVINCE
    ———————————————-——
    Miyaluo in Lixian County, Sichuan Province, has the largest area of autumn leaves in China, covering almost 3,700 square kilometers.
    In the Tibetan language, Miyaluo means "a place with breathtaking scenery." The place is hidden in Zagunao Valley and inhabited by the Tibetan and Qiang ethnic minorities.
    Maples, birch trees, pines and larches add seasonal richness to the forest of Zagunao Valley. As autumn comes, the mountains are covered in a blaze of red and gold. Visitors can also enjoy the stone castles built in ancient times and join in the traditional guozhuang dance, one of the three Tibetan dances in which people dance hand in hand to songs sung with question and answer lyrics. One can easily feel the passion of the dance that resembles a religious ritual.
    In the neighboring area, there are also many other places to explore, such as Jiuzhaigou Valley, Kangding, Tagong Grassland and Hailuogou Valley.
    Besides popular traditional Tibetan food such as yak meat, zanba and buttered tea, Sichuan delicacies such as Sichuan hotpot, rice steamed in a bamboo tube and rice wine are also recommended.
    Transport: Fly to Chengdu in Sichuan Province from Shenzhen and take a long-distance coach to Miyaluo.
    (Wang Yuanyuan)