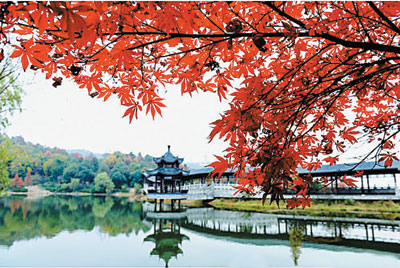 ONE falling leaf is a sign that autumn is on its way, says a Chinese proverb. Once again, China has entered its best season with red leaves, golden grasslands, and more impressive landscapes across the country. Here are more recommended places to experience the most beautiful autumn views in China.
    QIXIA MOUNTAIN,
    JIANGSU PROVINCE
    Located about 22km from Nanjing, the capital of Jiangsu Province, Qixia Mountain is one of the "10 wonders of Nanjing."
    Famous for its maple trees, Qixia Mountain attracts thousands of campers every autumn to the crimson maple leaves that cover most of the mountain.
    Since the Ming Dynasty (1368-1644), people have flocked to Qixia Mountain to enjoy the autumn scenery. This is mostly due to its variety of maples. There are sweet gums, red maples, Japanese maples, buerger maples, beeches and Chinese pistachios. This time of year, the entire mountain shines as red leaves flutter in the breeze.
    This spot has a peak of 286 meters. Emperor Qianlong (1735-1796) of the Qing Dynasty (1644-1911) called it "the brightest and most elegant mountain in Nanjing." It also has many fossils that attract geology enthusiasts.
    During the Southern Dynasties (420-589), a Buddhist temple, called Qixia, was built there, hence the mountain's name. The temple has 515 Buddha statues that were built during that period.
    Another must-see scene is Mirror Lake. The lake was built during the reign of Emperor Qianlong.
    Nanjing is also famous for its cuisine. Must-try dishes include salted duck, meat buns and chicken.
    Transport: Fly to Nanjing from Shenzhen airport, and then take a bus to the mountain.
    YUELU MOUNTAIN,
    HUNAN PROVINCE
    Yuelu Mountain is located to the west of Xiangjiang River in Changsha, Hunan Province. Its highest point, Yunlu Peak, is about 300 meters above sea level.
    At this time of year, the mountain's maple leaves are at their most vibrant.
    The mountain is noted for its many scenic spots, including Qingfeng Gorge, Aiwan Pavilion, Lushan Temple, Yunlu Palace, White Crane Spring and Flying Stone.
    Qingfeng Gorge lies in the low area between Yuelu Academy and Lushan Temple. It is home to Aiwan Pavilion, one of the four famous pavilions of ancient China, Sheli Tower, and the tombs of Huang Xing (1874-1916) and Cai E (1882-1916), who both contributed much to China.
    Yunlu Palace is part of Yuelu Mountain's long history of Taoist activities. The palace was built in 1478, and the mountain has been an active center for such activities ever since.
    Traditional Hunan delicacies include smelly tofu, chili fish head, spicy chicken and fish.
    Transport: Fly to Changsha from Shenzhen airport, then take a bus to the mountain.
    TIANPING MOUNTAIN, JIANGSU PROVINCE
    Tianping Mountain is located in the west of Lingyan Mountain in Suzhou, Jiangsu Province, and is at an elevation of 211 meters.
    It is named "Tianping" because of its smooth top. The mountain is an attraction with abundant humanistic and natural sceneries. It has been a place of great interest ever since the Tang Dynasty (618-907). Many famous people in history, such as the well-known poets Bai Juyi (772-846) and Fan Zhongyan (989-1052) as well as Emperor Qianlong have visited the mountain, leaving large amounts of poems and artworks.
    It is also famous for its grotesque stone, crystal spring and red maples, which are known as the three treasures of Tianping Mountain. In front of the mountain, there are a number of maples that are over 400 years old and were planted by Fan Yunlin, a descendent of Fan Zhongyan. In autumn, the mountain is colored red by the maples just as the sun goes down, which is spectacular.
    Suzhou is also a must-see city in China with well-known attractions such as Liuyuan Garden, Jinxi ancient town and Yiyuan Garden.
    Local delicacies include tofu in honey sauce, shrimp in soy sauce, sweet and sour fish, oily chicken and chicken soup.
    Transport: Fly to Suzhou from Shenzhen airport and take a taxi to the mountain.
    (Wang Yuanyuan)