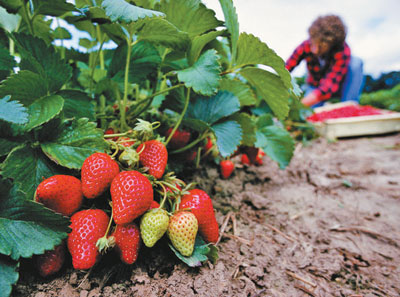 LIVING in Guangdong Province, you may not have a chance to celebrate a white Christmas and snowy New Year. However, there are some fun winter activities that you can only enjoy in southern China this time of year. So why not set off to some small towns around the province and enjoy a fun winter fruit-picking trip with family and friends.Gonggan,
    Deqing County
    Gonggan is a type of orange that is known for its juicy meat and rich nutrients. It is one of the healthiest winter fruits. Deqing County is the most famous place for growing gonggan.
    In the old days, gonggan from Deqing was served to the imperial families. Compared to gonggan from other places, these are much sweeter and juicier. In 2003, Deqing won the title of "Home to Chinese Gonggan." Deqing gonggans have been ready for picking since November.
    There is a large private gonggan forest in Jinlinshui Township. The pick-your-own farm has hundreds of gonggan trees and provides tools and training in fruit picking techniques.
    When visiting the farm on a wet day, a pair of waterproof shoes is needed.
    Another must-visit place in Deqing is Panlong Canyon.
    The canyon, the largest natural oxygen bar in South China, is home to more than 100 waterfalls. The Guangdong provincial tourism administration has acknowledged that the waterfalls are some of the region's most spectacular.
    The area is also full of ancient trees, including the living fossil plant alsophila podophylla, which is under national level-one protection and can be seen everywhere. The canyon also has cultural significance, being associated with dragon legends.
    Local delicacies include Shouwu cake, stuffed black tofu, stuffed sweet potation, fish and Shanshui tofu.
    Transport: Drive to Deqing from Shenzhen via Guangzhou-Shenzhen Expressway, Guangzhou-Sanshui Expressway, Guangzhou-Zhaoqing Expressway and G321.
    Strawberries,
    Dongguan
    The best time for picking strawberries in Dongguan is from November to January every year. In Weiyuan and Huide, Dongguan, there are many strawberry farms covering a large area.
    In fact, the strawberry farms can be found in every town in Dongguan and all are open to the public. For example, districts and towns such as Wangniudun, Wanjiang, Shijie and Gaobu all have pick-your-own strawberry farms.
    When picking strawberries, it is important not to pick those of strange shapes as they may contain additives. It is also better to wash the strawberries in salt water before eating.
    When visiting Dongguan, Yuehui Garden is one of the spots that you cannot miss. An outstanding representative of Cantonese-style gardens, it is the largest private garden in China. There are 108 garden attractions featuring Cantonese-style ancient buildings, pavilions, hallways, stone bridges and fake mountains. It also has many ancient trees.
    Picturesque Songshan Lake is another recommended spot in Dongguan. The beautiful park has one of the best cycling tracks in Guangdong Province and is an ideal place for a relaxing family outing.
    Recommended local delicacies include fish balls, rice noodles with roast goose and meatball porridge.
    Transport: Drive to Dongguan via Guangzhou-Shenzhen Expressway.
    (Wang Yuanyuan)