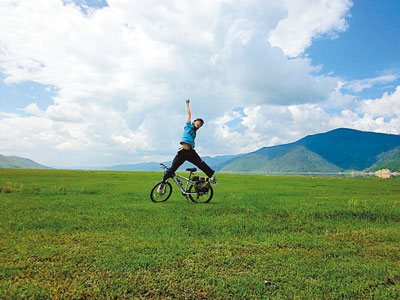 CYCLING is now a popular activity among many young Shenzheners in the city, and riding to Tibet is the most popular route. In fact, there are many places in China that offer stunning views for cyclists. In this week, we continue to introduce you to some of the best cycling routes across the country.
    Lanzhou to Dunhuang
    Starting in Lanzhou, capital of Gansu Province, and ending in Dunhuang, Gansu, this a classic route for experiencing the world-famous Silk Road along the Hexi Corridor.
    Both Lanzhou and Dunhuang were important cities along the ancient Silk Road. As the westernmost city of the Hexi Corridor, Dunhuang's long history has accumulated and bred its unique culture.
    Highlights of the route include the Dunhuang Mogao Grottoes, Jiayu Pass, Luoshi Tower, the Gobi Desert, Dafo Temple (The Grand Buddha Temple), the small Great Wall and Yumen Pass.
    A recommended route from Lanzhou to Dunhuang is to ride via Tianzhu County, Wuwei City, Zhangye City, Jiuquan City, Jiayuguan City, Yumen City and Guazhou County.
    The best time for a cycling trip in this area is from September to October, since this is when many fruits in the area are in season. The rest of the year is also great for cycling. The whole journey takes about 10 to 12 days and costs around 500 to 1,500 yuan (US$81 to 244) without flights.
    The world-famous Lanzhou ramen is a must try.
    Transport: Fly to Lanzhou from Shenzhen airport.
    The Grand Canal journey
    The Beijing-Hangzhou Grand Canal was one of the greatest projects constructed in ancient China. It is the world's oldest and longest canal. Connecting the Yangtze River, the Yellow River, the Huaihe River, the Haihe River and the Qiantang River, it is nearly 1,800 kilometers long with 24 locks and some 60 bridges.
    There are many well-preserved historical sites along the canal, including Gongchen Bridge, Guotangxing and Fengshan Gate, and it is a great route for experiencing the different cities and towns in northern and southeastern China.
    A recommended route from Beijing to Hangzhou is to ride via Tianjin City, Changzhou City, Dezhou City, Liaocheng City, Jining City, Xuzhou City, Suqian City, Huai'an City, Yangzhou City, Changzhou City, Wuxi City, Shanghai City and Jiaxing City, a route of about 1,780 kilometers.
    This route is great for cycling in all seasons, but warm clothes are needed if you will be riding in the winter. The whole journey takes about 20 to 25 days and costs around 1,500 to 5,000 yuan.
    Transport: Fly to Beijing from Shenzhen airport.
    Beijing to Mohe
    Mohe, Heilongjiang Province, is China's northernmost city. Bordering Russia, it is the only place in China where people are able to enjoy the atmospheric phenomena of the aurora borealis and the midnight sun.
    The city is also famous for its historical relics from the time of the Qing Dynasty (1688-1911) and the World War II.
    A recommended route is from Beijing to Mohe via Miyun County, Luanping County, Longhua County, Weichang County, Chifeng City, Tongliao City, Wulanhaote City, Nengjiang County, Hehei City and Tahe City, a route of about 2,800 kilometers.
    Highlights of the journey include metropolises, grasslands, mountains and small northern towns.
    The route is very easy to ride in the spring, summer and autumn. It is better not to ride in the winter though because the area is prone to heavy snow and low temperatures. If you go there in June or July, you may have a chance to see the midnight sun. The whole journey takes about 22 to 30 days and costs around 2,000 to 6,000 yuan.
    Transport: Fly to Beijing from Shenzhen airport.
    Kashi to Lhasa
    Riding from Sichuan Province might be the most popular route for cycling to Tibet, but riding from Kashi, Xinjiang Uygur Autonomous Region, to Lhasa, might be the most difficult route.
    With an average altitude of more than 4,500 meters, the route is said to be the world's most difficult and dangerous cycling route, with an extreme natural environment, dangerous road conditions and poor facilities. Most areas along the route are depopulated zones, and there are five peaks more than 5,000 meters above sea level. Due to poor conditions, accidents such as landslides and sandstorms occasionally happen, and it is extremely difficult to find supplies and support along the route.
    However, the route has become more and more popular during the past few years due to its stunning plateau scenes. Highlights of the route include well-known Kunlun Mountain, Kalakunlun Mountain, Gandise Mountain and the Himalayas.
    A recommended route is from Kashi to Lhasa via Yecheng County, Pusa Village, Yigeziya City, Kangxiwa City, Tianshuihai County, Jiasangmari Village, Jipu Village, Ritu County, Ge'er County, Baga Township, Zhongba County, Saga County, Lazi County and Rikaze City, a route of about 2,850 kilometers.
    The best time to traverse the route is July or August because the temperatures are relatively comfortable. The whole journey takes about 30 to 40 days and costs around 1,500 to 5,000 yuan.
    Professional physical training, survival training and bicycle repair skills are needed before starting the journey. Necessities such as food, an oil stove, a tent and extra bicycle parts such as tires should all be packed.
    Transport: Fly to Kashi from Shenzhen airport.
    (Wang Yuanyuan)