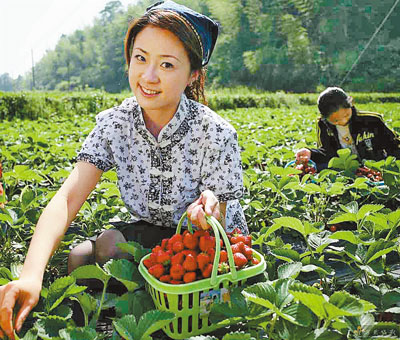 SPRING in Guangdong is not just about flowers, it is also the time of year for fruit picking and family gatherings. Here are some places in the province where you can enjoy a fun and healthy trip with family and friends.
    Carambolas
    Also known as star fruit, carambola is a popular subtropical fruit found throughout Southeast Asia, the South Pacific and East Asia.
    There are many places in the province that offer carambola-picking experiences, and Yingzhou Ecological Park is one of the most recommended spots.
    Located in Xiaozhou Village in Guangzhou, the park was originally founded during the Yuan Dynasty (1279-1368). It is now an ecological fruit farm that covers an area of 130 hectares with more than 50,000 fruit trees. These include longan, carambola, wampee, litchi, guava and papaya.
    The park also offers other leisure activities such as a waterpark, ball game venues, BBQ services and a game area that is ideal for a family weekend getaway.
    When picking carambolas, look for glossy, yellow-colored fruit. Green means the fruit isn't ripe. A touch of green, especially on the edges, will make for a perfectly ripe fruit if left on the counter for a few days.
    When visiting Xiaozhou Village, a must-try local delicacy is beggar's chicken. The chicken is stuffed, wrapped in clay and roasted. It takes more than six hours to prepare a single serving.
    Other recommended snacks include tofu jelly and milk pudding.
    Route: Drive to Guangzhou via Guangzhou-Shenzhen Expressway, South China Expressway, and Xinnan Road.
    Blackberries
    If you are tired of buying blackberries at the supermarket, Baosang Garden in Guangzhou may be the perfect alternative. Located in Changang Village in Huadu, the 53-hectare garden has more than 100,000 mulberry trees of different kinds. It is the country's first ecological garden for mulberry trees, featuring activities such as blackberry picking, silkworm breeding, outdoor training, BBQ and games.
    When picking the blackberries, look for the ones that stand out from the crowd. They should be shiny and firm when you pick them. Use a couple of containers if you want to pick lots of berries and avoid wearing white or hard-to-wash clothes.
    Blackberries are not easy to store. If you are able to keep them dry, they should last for two to three days. If refrigerating, let them come to room temperature before eating because they are much juicier that way.
    Baosang Garden also offers some special delicacies featuring blackberries. Their most famous dishes include steamed chicken, pork soup with mulberry tree leaves and fried rice noodles with tree leaf sauce.
    Route: Drive to the garden from Shenzhen via Guangzhou-Shenzhen Expressway, Guangzhou-Qingyuan Expressway and Shiling.
    Strawberries
    Strawberry has always been the most popular fruit for fruit-picking activities in Shenzhen. In fact, there are many strawberry gardens in the city. However, if you think that these gardens are not far enough for a weekend getaway, why not take a tour to Panyu, Guangzhou, to experience another type of strawberry-picking fun.
    In Panyu, right next to Bigui Boulevard, there is a large number of strawberry farms covering an area of about 100 hectares. They are not closed gardens and parks featuring other activities and facilities but are pure fields, one after another. In this area, you will have an authentic strawberry-picking experience on a real farm.
    When picking strawberries, do not throw them into a basket. They are tender and bruise easily if not handled with care. Choose strawberries that are fully ripe and evenly colored.
    Be careful when walking and crouching around the plants. You do not cause damage to either the plants or the fruit on the edges.
    Panyu has a lot of local delicacies. Traditional Cantonese dishes such as milk pudding with ginger sauce and porridge with beef are the most recommended.
    Route: Drive to Panyu via Guangzhou-Shenzhen Expressway, Humen Expressway, Beijing-Zhuhai Expressway, South China Expressway, Qinghe Road East and Shengtai Road. (Wang Yuanyuan)