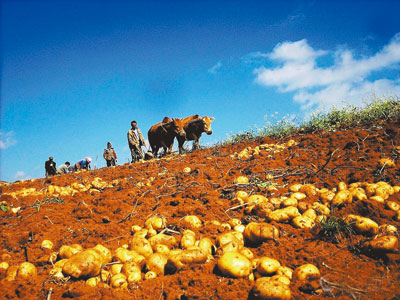 SPRING is always the best time for a tour in the countryside and other remote areas. If you are tired of being stuck in the crowds, here are some more options for you.
    Meijiawu, Zhejiang
    Meijiawu Tea Village is nestled in the hinterland of West Lake District, Hangzhou, and it is renowned as one of the most important tea production bases in Hangzhou, which once entertained leaders from the United States, Vietnam, Romania and other countries and regions.
    The village is situated west of West Lake. This 600-year-old village was once very poor until local farmers started planting tea. It has now become one of the four famous habitats for growing Longjing tea and is well-known for its tea culture and leisure tourism, which attracts millions of visitors every year.
    The village features 160 teahouses, in all of which you can learn about the history and culture of Chinese tea. This picturesque village will enable you to experience the pleasures of a perfect cup of tea and tea ceremonies.
    It is also renowned for its tea-infused food. Recommended dishes include Longjing shrimp, Biluo shrimp bucket and Longjing fish.
    Transport: Fly to Hangzhou, capital of Zhejiang Province, from Shenzhen airport and take a taxi there.
    Thousand Islands Lake,
    Zhejiang
    Thousand Islands Lake is located about 150 kilometers from Hangzhou. It is an artificial lake that formed after the completion of the Xin'an River Hydroelectric Station. The lake earned its name from the 1,078 large islands and the few thousand smaller ones that dot it after the Xin'an River was dammed in 1959.
    The lake, known for its clear water, is used to produce the renowned Nongfu Spring brand of mineral water. It is also home to lush forests and exotic islands.
    Spring is one of the best times to visit the lake due to its beautiful green mountains and crystal-clear water.
    There are plenty of leisure activities that you can do at the site: cycling, hiking and camping. There are also many service centers and local eateries along the way. A boat trip is also a recommended activity.
    Transport: Fly to Hangzhou from Shenzhen airport and take a coach or taxi to the lake.
    Dongchuan Red Land,
    Yunnan
    Dongchuan Red Land is a new tourist destination near Kunming, capital of Yunnan Province. Loved by photographers and backpackers, it is praised as "God's palette." These red lands, extending for nearly 50km, are the most striking and distinctive in the world.
    May to June is the best time to visit Dongchuan Red Land. Photographers can capture the strong red fields just after plowing season and before the crops grow. Potato flowers also bloom during this time. Between the crops, the red earth and the blue sky, it is truly a wondrous place to visit.
    Transport: Fly to Kunming from Shenzhen airport and take a taxi there.
    Da'erbin Lake,
    Inner Mongolia
    Located in Hulunbei'er City, Inner Mongolia, Da'erbin Lake National Forest Park is an up-and-coming tourism site with many forests and large swathes of flowers.
    Known as the "garden of the forest sea," the park features volcanoes, lakes, river, wetlands, caves, hot springs and many ethnic minority villages.
    There are many things to see at the park, including Da'erbin Lake, the largest highland lake at the west bank of Nenjiang River, Bilahe Grand Canyon, the longest canyon at Daxing'an Mountain, Sifang Mountain, the holy mountain for the Elunchun ethnic group, and several volcanoes.
    Transport: Fly to Hohhot, capital of Inner Mongolia, and take a train there.
    (Wang Yuanyuan)