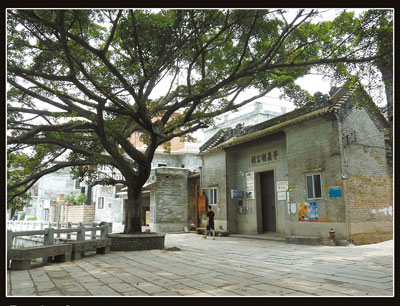 IT is once again the time of year to explore the beautiful scenery around the city. If you want to see something more relaxed and cultural, here are some ancient villages that can offer you a bite of traditional Guangdong.
    Xitou Village, Conghua
    Located in the eastern part of Liangkou Town, Conghua, Xitou Village is about 180 kilometers away from Shenzhen. The village is crisscrossed by a network of streams, all of which are eight kilometers in length. These streams are one of the major sources of the Liuxi River.
    Xitou Village abundantly produces Sanhua plums (a local fruit that is greener than ordinary plums), tomatoes and mandarin oranges. Every year during the Liuxi Plum Blossom Festival and the Sanhua Plum Festival, which fall on January and June, respectively, a large number of tourists flock to the village to taste the mouth-watering plums.
    Walking along the head stream of the Liuxi River, you can marvel at an array of hundred-year-old historic buildings, including Futian Neighborhood, Jinzi Neighborhood and Jiyang Neighborhood.
    With fresh air, a sound ecological system and friendly villagers, it is a perfect destination for city dwellers to retreat from their hectic city life.
    Route: Drive from Shenzhen to the village via Guangzhou-Shenzhen Expressway, South China Expressway, Beijing-Zhuhai Expressway, Jiebei Expressway, G105 and X938.
    Huangpu Village,
    Guangzhou
    Huangpu Village is one of the most unchanged in Guangzhou.
    Since the Song Dynasty (960-1279), Huangpu has been the seaport for Guangzhou and became the only Chinese port open to foreign trade in the late Qing Dynasty (1644-1911). The grandeur of that period remains in the form of fancy, brick house.
    The village is also home to a large number of ancestral temples from the 17th and 18th centuries. Some have been transformed into museums, art galleries and gift shops while a few have been abandoned and are falling into ruin. At least six family names can be found in the village — a lot more than you'll find in most villages in China.
    Anglers still live here and take their fishing boats out on the river. If you have your line and tackle, you too can fish here free of charge.
    You will also find tons of small shops where you can sample local traditional foods — try the most famous dishes of Cantonese-style porridge and ginger-flavor milk pudding. Local restaurants are also recommended.
    Route: Drive from Shenzhen to the village via Guangzhou-Shenzhen Expressway, South China Expressway and Xingang Road East.
    Julong Village,
    Guangzhou
    Julong Village is likely Guangzhou's best example of an ancient village blended with modern development. Despite the massive changes brought on by economic development in surrounding areas, there are still just over 100 people who reside in the village (same as for the last 120 years), and the village contains some of the best-preserved late Qing-Dynasty architecture around, making it a premier historical and cultural preservation district in Guangzhou.
    Walking around the village alleyways, you will immediately notice that the ancient dwellings have a unique layout: The village was designed to resemble a well.
    There are three streets that run east to west and eight that run north to south. The streets are paved with stones and all the buildings face south. Some old architectural features around town worth taking a closer look at are the communal well and various woodcarvings, murals and Manchurian-style stained glass windows.
    Must-see sights include Yuling Bridge and Minghui Park. Fangcun Bar Street is also located nearby.
    Route: Drive to the village via Guangzhou-Shenzhen Expressway, South China Expressway, Fangcun Boulevard and Xinghua Boulevard.
    (Wang Yuanyuan)