It's once again the time of year to explore the beautiful scenery around Shenzhen. Here are more ancient villages that can offer you a glimpse of traditional Guangdong.
    Dawen Village,
    Guangzhou
    Located in Panyu, Guangzhou, Dawen Village is a small fishing village known for its water fun and traditional delicacies.
    As a major village for freshwater fish farms, the village is a well-known resort with several water-themed leisure areas. Among them are Yuluyuan Gourmet Garden, Water Animal Museum and Shatian Fishermen Gourmet Garden, all popular tourist stops.
    Various leisure activities can be found in the village, such as barbecuing, fishing, amusement parks, cycling, boating and tennis. There are also several vegetable and fruit farms in the village, which are perfect for a family picking day.
    In the museum, entertainment performances are staged every day. Families can also enjoy classic movies at a theater built on the water.
    Cuisine made from freshwater fish is a must try in the village. Other popular delicacies include pigeon, rice noodles and fresh vegetables.
    Transport: Drive to Shawan via Guangzhou-Shenzhen Expressway, Dongguan-Foshan Expressway, Guangzhou-Macao Expressway, Nanshagang Expressway and Shinan Road.
    Xiaozhou Village,
    Guangzhou
    Xiaozhou Village in Guangzhou may be the most relaxing village in the province.
    The village, built along a river, is particularly popular with artists and photographers. Chinese painting masters Guan Shanyue and Li Hongcai both came to the village for inspiration.
    Because of its good reputation in art circles, it has become the subject of many pieces of art. Many young artists move to the village to paint, open exhibitions and sell their works. They often walk, chat, jog, cook and shop in the village during the day and work on their art at night.
    There are also many stores that sell interesting and special products at low prices, such as T-shirts, stationery, accessories and ornaments. Many of these products were designed and made by artists in the village.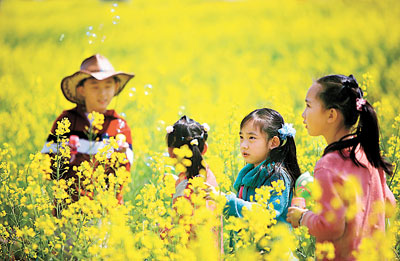 There are also many traditional Cantonese snacks in the village such as sesame soup, double-layer milk and Cantonese desserts.
    Transport: Drive to the village via Guangzhou-Shenzhen Expressway, South China Expressway, Bazhou Bridge, Nansha Expressway and Nanhuan Expressway.
    Shawan Ancient Town, Guangzhou
    Built over 800 years ago during the Song Dynasty (960-1279), Shawan Ancient Town, located in Panyu District, has long enjoyed a reputation as one of the most culturally rich towns in the region.
    The town boasts over 100 ancient shrines and is lined with beautiful, well-preserved ancient buildings.
    Among them is Liugeng Hall, which is one of the most famous ancestral halls in the town. Built in 1275 during the Yuan Dynasty (1279-1368), the original building was destroyed and rebuilt in 1700 during the Qing Dynasty (1644-1911).
    Another spot is Wenfeng Pagoda. Built in 1721, the site once attracted superstitious academics and children from near and far who flocked there in droves to worship the statues inside.
    Shawan cuisine, which includes specialties such as ginger milk, is also famous in the region.
    Transport: Drive to Shawan via Guangzhou-Shenzhen Expressway, Dongguan-Foshan Expressway, Guangzhou-Macao Expressway and Dongchong Expressway.
    Hongshan Village,
    Guangzhou
    Located at the foot of Wangzi Mountain Forest Park, Hongshan Village, in Guangzhou's Huadu District, is known as "the most beautiful village in Guangdong Province."
    The village's canola flower farms were established to attract visitors and produce canola oil. Much of the farmland had once been paddy fields, which were adjacent to the provincial-level Wangzi Mountain Forest Park. Apart from taking photos of canola flowers, visitors can also explore Wangzi Mountain, which covers an area of 32 square kilometers.
    Legend says that whoever is able to find a cave in the mountain would have a prince born into the family in a future generation.
    Farm products, such as vegetables, carrots and pickles, are very popular with visitors. One of the best sellers is shanshui tofu.
    Transport: Drive to Huadu via Guangzhou-Shenzhen Expressway, Beijing-Hong Kong-Macao Expressway, Huacheng Expressway, Airport Expressway and Sandong Boulevard. (Wang Yuanyuan)