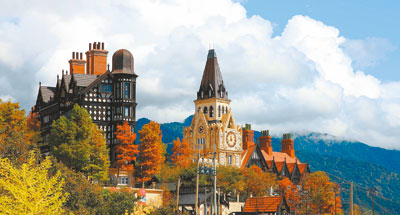 MAY is normally the last chance to enjoy the late spring in other parts of China. Why not take a few days off to explore some major tourist sites and seek the beauty of traditional China.
    Hangzhou, Zhejiang
    Province
    Situated in Zhejiang Province, Hangzhou is known as a "paradise on earth" by the Chinese. When Italian merchant traveler Marco Polo came to Hangzhou in the 13th century, he described the city as "the most beautiful and elegant city in the world."
    The city has wonderful scenery, rich culture and relaxed inhabitants. West Lake is the most popular scenic spot in the city.
    Zhejiang cuisine is one of the "eight greatest cuisines of China," and Hangzhou cuisine is its representative. It emphasizes fresh and sweet flavors.
    The most well-known dishes in Hangzhou include Longjing shrimp (fried shrimp with tea leaves), West Lake vinegar fish (steamed fish with vinegar), beggar's chicken (chicken roasted), Dongpo pork (braised pork) and tofu.
    Hangzhou is also entitled the "capital of tea." It's generally acknowledged that West Lake Longjing tea is the best tea in China. The tea grows only in some certain areas around West Lake and can cost from 800 to 2,600 yuan for 500 grams.
    Transport: Fly to Hangzhou from Shenzhen airport and take a taxi to downtown Hangzhou.
    Nantou, Taiwan Province
    Nantou County lies at the geographical heart of Taiwan and is the only county that does not border the coast.
    The county is home to Taiwan's highest peak, Yuanshan Mountain, and 41 other 3,000-meter mountains that form an unbroken and undulating expanse of green. Taiwan's longest river, the Zhuoshui River, winds through the county, and the island's most beautiful lake, Sun Moon Lake, completes the county's scenic tapestry.
    Nantou is heavily dependent on farming. Rustic areas and an abundance of agricultural products are, therefore, among the county's major visitor draws. There are dozens of well-planned recreational farm areas that are perfect for a quiet and leisurely family trip to the countryside.
    Transport: Fly to Taipei from Shenzhen airport and take a train there.
    Guilin, Guangxi Zhuang Autonomous Region
    Located in the Guangxi Zhuang Autonomous Region, Guilin is one of China's most picturesque regions and has long been one of the world's most famous travel destinations.
    Guilin's most renowned feature is its dramatic karst terrain. Rising sharply at odd angles, limestone peaks look like giant teeth growing out of the green plain. Karst topography is characterized by many caverns and sinkholes that form by the dissolution of limestone or other carbonate rocks.
    Two types of karst landscapes dominate Guilin: fenglin (peak forest) and fengcong (peak cluster). The two types may have evolved sequentially, from peak forest to peak cluster, or simultaneously.
    One of the best ways to see the karst scenery of Guilin is to take a Lijiang River cruise. The river is widely considered to be the most beautiful river in Guilin, passing by much of the region's natural beauty.
    Some of the famous karst hills and caves in Guilin include Elephant Trunk Hill, Nine Horse Fresco Hill, Fubo Hill, Reed Flute Cave and Crown Cave.
    Transport: Fly to Guilin from Shenzhen airport.(Wang Yuanyuan)