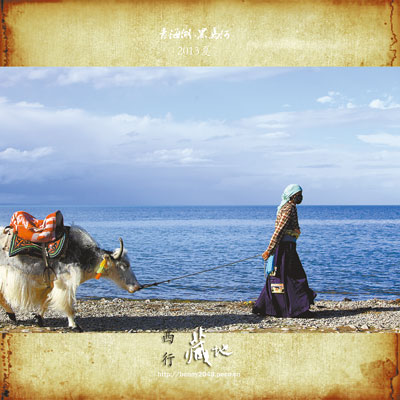 LOCATED in northeast Qinghai Province, Qinghai Lake is a unique upland lake that is perfect for a cycling trip in the summer with its landscape consisting of yellow canola flowers, white snowcapped mountains and Tibetan customs.
    Since ancient times, Qinghai Lake has been known as a "blue sea" or a "fairyland" due to the marvelous natural beauty reflected on it. As for the area, it is the largest inland and salt water lake in China.
    The lake offers year-round pleasures. Even in the middle of the summer, the average temperature in the daytime is only about 15 degrees Celsius, which is why it is often selected as an ideal summer cycling destination.
    In July, canola flowers at the lake are in full bloom. The azure blue lake is embedded in millions of acres of yellow flowers on the plateau, producing a magnificent view just like paradise.
    The best place to appreciate the area's canola flowers is on the way to the lake. You can see large swathes of canola flowers on the east of Riyue Mountain, where the flowers are divided into layers along terraced rice fields. On the west of Riyue Mountain, the flowers are scattered on the bank of Qinghai Lake. There is also a small port by the lake, where you can appreciate the lake and flowers by boat. Other recommended spots include Menyuan, Qingshizui, Yulongtan and Daban.
    Many travelers like to bike along the lake, too. An ideal route is to ride from Xihai to Hudong via Heima River, Quanji, Niaodao, Gangcha and then return to Xihai. The total length is about 360 kilometers and can be finished in about four days.
    It is not a very difficult ride, but riders, particularly those with heart disease and high blood pressure, are encouraged to rest when tired.
    There are also many bicycle clubs and workshops in the area.
    Transport
    The most popular way to get to the area is to fly to Xining, capital of Qinghai Province, from the Shenzhen airport. There are coaches from Xining to Qinghai Lake, and the coaches stop in popular destinations like Heima River, 151 Base and Niaodao. Tickets for the coach are from 30 to 50 yuan.
    Another popular way to get around is to rent a car and a driver for 500 yuan a day. The driver will show you must-see places in Qinghai Lake, and you can start your round-the-lake ride at any spot you want.
    Accommodation
    There are many tent inns run by local Tibetans in the lake area whose rates run around 20 to 50 yuan a day. If you prefer more modern living conditions, you can also go to local hotels.
    Camping is also popular among riders.
    Local delicacies
    Qinghai Province is known for its lamb cuisines, noodles and snacks.
    At Qinghai Lake, fresh fish is a must-try. Recommended dishes include fish soup, steamed fish and fish stew. However, you should be aware that a type of fish, the Huang Fish in Qinghai Lake, is now a protected species and should not be fished or sold due to a sharp decrease in numbers. One of the most special snacks in the area is sticky rice cake. The cake is made with sticky rice, Chinese dates and syrup. Kebab with local lamb is also recommended.
    (Wang Yuanyuan)