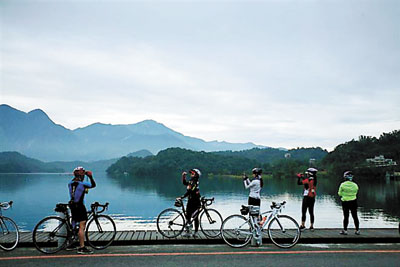 KNOWN as "a biking kingdom," Taiwan is now a popular spot for cyclists from the Chinese mainland. Cycling is a must-do activity if one visits the island, so why not take a few days off from work and explore the beauty of Taiwan on a bike. Here are some recommended cycling routes.
    Overview
    There are over 100 kilometers of cycling tracks across the island. A majority of the tracks are vehicle free and located along tourist attractions such as rivers, parks and mountains. Even in busy cities such as Taipei, the government has set up dedicated cycling tracks to keep cyclers safe from cars and motorcycles.
    The most classic route:
    Old Caoling Tunnel
    Located in Fulong, the Old Caoling Tunnel was the first cycling tunnel in Taiwan that was built from an old rail line. This route is like a railway museum with railway-like cycling tracks, old-fashioned railway decorations and vintage oil lamps. Two cycling service stations sit by the entrance and exit of the tunnel.
    Attractions: Fulong beach and Longmen Bridge
    The safest route:
    Guanshan Township
    A long trip is always full of dangers, especially for non-professional cyclists. However, you don't need to worry about this problem when taking a cycling trip around Guanshan Township, Taitung County. The township is home to Taiwan's first cycling track, which is located close to water and mountains. You can also enjoy the beautiful rice fields along the way.
    Attractions: Guanshan Waterpark and Sun and Moon Watching Belvedere.
    The most amazing route:
    Chihsingtan coastal cycling track
    Taiwan is known for its stunning mountain and ocean scenes, and the cycling track in Chihsingtan in Hualien is the best route to experience the two. There are many popular attractions along the route, and local cuisine is also recommended.
    Attractions: Chihsingtan, 48 Highland and Yuenyeh Pasture.
    The most famous route:
    Sun Moon Lake
    Sun Moon Lake is the largest water body in Taiwan and the most popular tourist attraction in Taiwan. The cycling track at the lake is also the most famous in Taiwan since it was selected as one of the world's top 10 most beautiful cycling tracks by CNN. The route is about 33 kilometers. Along the route, there are many popular attractions and historical sites.
    Attractions: Wenwu Temple, Shuishe Hiking Track and Zi'en Temple.
    Tips
    Bikes can be conveniently rented at both government and private rental shops. Lots of the rental shops are located along key tourist cycling tracks and simple bikes can easily be rented for as little as 20 NTD (US$0.65) per hour. For more advanced bikes, the prices can climb to up to 2,000 NTD per day.
    You can also bring your own bike to Taiwan.
    Another point worth mentioning is that bike prices in Taiwan are relatively cheap. So a lot of cyclists like to purchase a bike online before taking off and pick up the bike upon arriving in Taiwan. After a fun trip around the island, they can take their bikes back to the mainland.
    Government rental information
    YouBike — Taipei Bike Sharing System Service Plan:
    http://www.youbike.com.tw/info.php
    Taipei Riverside Rent-a-Bike Service Stations:
    http://www.taipei.gov.tw/ct.asp?xItem=1143103&ctNode=36791&mp=100002
    C-Bike — Kaohsiung Public Bike:
    http://www.c-bike.com.tw/english/Default.aspx (Wang Yuanyuan)