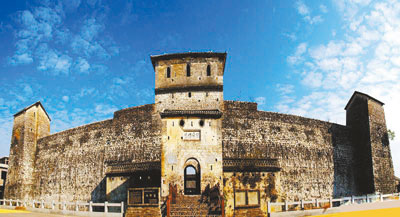 THE Hakka are believed to have originated in the central regions of China and settled down in Jiangxi, Fujian and Guangdong provinces to escape a calamity. This week, we will continue our tour into the heart of Hakka culture in Guangdong Province to experience their unique culture and customs.
    Shitang Ancient Village, Shaoguan
    Located in Renhua County, Shitang Ancient Village is the only Chinese Historical Cultural Village in Shaoguan City.
    The 640-year-old village is known for its well-preserved historical sites with 133 ancient residential houses. Most of the houses were built during the Ming and Qing dynasties and have a very unique style that combines the traditional architecture styles of Anhui Province and the Hakka people.
    It's said that the villagers originally migrated from Fujian Province. At present, about 3,400 villagers are still living in the village.
    Sanjiao Street, located in the center of the village, is a must-see spot in the village. It used to be the busiest trading street in the area with many stores and shelves. Although many of the stores are not in operation today, they have kept their original construction.
    Another well-known spot is Shuangfeng Fortress, where the well-known Shuangfeng Fortress Battle took place in 1911.
    The village is also known for its rich culture and special customs. Among all their traditional activities, Yuejie Song is the most special. Since ancient times, every Aug. 1 to 15 on the Chinese lunar calendar, local women gather to sing special folk songs. The songs are mainly about their quiet farming and family life. However, not many women in the village know how to sing these songs today.
    Local rice wine is another must-try when visiting the village.
    Route: Drive to the village from Shenzhen via Guangzhou-Shenzhen Expressway, Beierhuan Expressway, Beijing-Zhuhai Expressway, Provincial Road 345 and County Road X335.
    Sujiawei Village, Heyuan
    Located in Heyuan City, Sujiawei Hakka Village is a picturesque village featuring Hakka culture and ancient dwellings. The village is also famous as the residence of the descendants of Su Dongpo, a great writer, calligrapher and painter of the Northern Song Dynasty (960-1127).
    Known for its beautiful scenery and rich culture, the village is made up of enchanting rivers, lush bamboo trees, gigantic banyan trees, ancient buildings, traditional fishing boats and distinctive waterwheels.
    There are also many round houses that were built during the Ming (1368-1644) and Qing (1644-1911) dynasties in the village. A round house is a typical Hakka residence built to withstand unfriendly intruders.
    Yingqin Bridge is a must-visit site as it is an ideal spot to get a bird's-eye view of the village.
    Yongsi Memorial Hall is another landmark building in the village because it is the oldest of them all. Built in 1481, the memorial hall is a place where the villagers offer sacrifices to gods and discuss important affairs.
    Another landmark building, the Su Ancestral Memorial Hall, with a history of over 470 years, once had an array of significant cultural relics of the Su family. The existing plaques, which were given by various emperors, provide an idea of the past glory and resplendence of Sujiawei Village.
    You can also enjoy other farming activities in the village such as growing vegetables, extracting oil, catching fish and drifting down the rivers.
    Route: Drive from Shenzhen to the village via Meiguan Expressway, Jihe Expressway, Huizhou-Yantian Expressway, Huizhou-Heyuan Expressway, Hezi Road and Heyi Road
    Linzhai Village,
    Heyuan
    Located along the Lijiang River, a tributary of the Dongjiang River, Linzhai Village was first built around 214 B.C., during the Qin Dynasty (221-206 B.C.).
    It's said that the village was built to withstand invaders under the guidance of a marshal named Zhao Tuo. When the Chen family arrived in Linzhai Village, it's said that they started building a Hakka-style sijiaolou — a square, multi-home building with an inner courtyard — around the Lin family's house. Today, Linzhai Village has the largest number of ancient sijiaolou in China.
    The village's scientific, pragmatic design includes an advanced drainage system that washes away dust and mud after heavy rains. Many of the village's residents come from ancient families who have lived there for generations. Unlike many popular tourist towns, shops are rare in Linzhai Village. Although the village has become a popular tourist destination, most locals still live on farming.
    There are also many famous hot spring resorts in neighboring areas.
    Route: Drive from Shenzhen to the village via Meiguan Expressway, Jihe Expressway, Huizhou-Yantian Expressway, Huizhou-Heyuan Expressway, G205, G25 and Provincial Road 229.(Wang Yuanyuan)