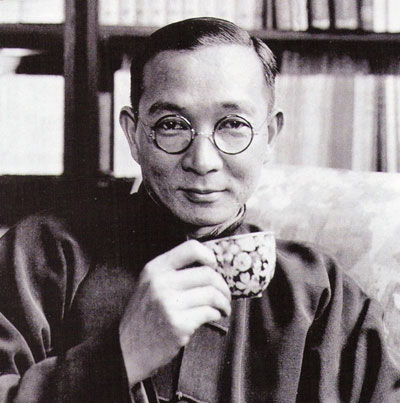 MOST people have probably heard the name of Lin Yutang (1895-1976), a versatile scholar well versed in both Chinese and English, thanks to the popular TV series "Moment in Peking" (originally released in 1988 and remade in 2005) based on his novel of the same name. Careful viewers will find similarities in the themes and stories of Lin's novel and the famous classic "A Dream of Red Mansions" by Cao Xueqin even though Lin's novel is set in the early 20th century.
    Lin himself had admitted that his novel, written in English between 1938 and 1939 during his stay in Paris, was largely influenced by Cao's work. Amazingly, an unpublished English translation of "A Dream of Red Mansions" by Lin has been discovered in Japan, Nankai University in Tianjin announced Friday.
    "A Dream of Red Mansions," written by Cao Xueqin in the 18th century, is widely considered the pinnacle of Chinese fiction. Two complete English versions were published in the 1970s — one by David Hawkes, a British Sinologist, with the title "The Story of the Red Stone," and another by Yang Xianyi and his wife Gladys Yang titled "A Dream of Red Mansions."
    Lin's version was uncovered last year by Song Dan, then a Ph.D. candidate at Nankai University doing her thesis on Japanese translations of the novel at Waseda University in Tokyo. Song noticed that Ryoichi Sato, a Japanese translator, had noted in his book that he was translating from Lin's English version of "A Dream of Red Mansions," which Lin sent him in 1973. Sato's Japanese version was published in 1983.
    Song then tracked down relatives of the late translator, who was the former head of the Japanese Translators Association, and they told her they had donated the manuscript of Lin's translation to a local library. Song read the original work in the library and took photos. But she could not take the work out of the library or reveal its name at the time, at the request of Sato's relatives. According to Song, "In addition to the typed manuscript of Lin's translation, two pages were in his handwriting. Lin's page-by-page editing is handwritten, which helped in verifying the work's authenticity."
    Why Lin's daughter, Lin Taiyi, did not include this piece on the list of her father's works in the 1989 biography of Lin remains a mystery, says Liu Shicong, professor of translation at Nankai University. "It would have taken a long time to translate such a long novel, and you would think the family would have been aware of it. It is also strange that he only sent the translation to the Japanese translator instead of publishing it, given the popularity of his works," Liu told the China Daily.
    Lin was one of the most influential Chinese authors who wrote in English. His works, such as "My Country and My People" and "The Importance of Living," were best sellers in the West in the 1930s. So were his compilations and translations of classic Chinese texts into English in the 1960s.
    Lin's translation was not a literal one, consistent with his style, Song says. Instead, he rendered the novel into English relying on his own notes, and it was about half the length of the original work.
    "Lin's translation style is unique," says Lu Shisheng, professor of translation at Nankai University. "He was a master of cross-cultural communication. I believe his version will help Western readers better understand this great novel."
    It remains unknown how Lin's descendants will react to the plan of Nankai University, which, according to the China Daily, is going to publish the book.(SD-Agencies)