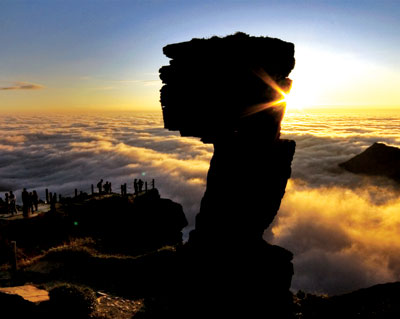 THE hot summer is here. If you are still hesitant about traveling because you are worried about large crowds, here are more recommended summer resorts that are not very well-known to the public.
    Wenhai, Yunnan Province
    Wenhai is located on the southern slope of Yulong Snow Mountain and it is a part of the Lashihai Provincial Wetlands Nature Reserve.
    The charm of Wenhai is enhanced by a seasonal lake — Wenhai Lake. The lake is an alpine lake and wetland that appears only in spring and summer. The entire lake turns into grassland between November and January.
    One enjoyable way to explore the area is to hike or cycle around Wenhai Lake. It takes two to three hours to hike around the lake and mountains.
    Even more gratifying is the view of Wenhai Village. The Naxi ethnic group built their homes using special gray tiles, which is rarely seen in other places.
    The well-known ancient town of Lijiang and the magnificent Tiger Leaping Gorge are all situated in the neighboring area.
    There is no admission for entering the village and the lake area.
    Transport: Fly to Kunming, capital of Yunnan Province, and take a train to Lijiang. Get to Wenhai by coach from Lijiang.
    Gannan, Gansu Province
    Gannan Tibetan Autonomous Prefecture is situated at the east edge of Qinghai-Tibetan Plateau, Gansu Province. The wonderful scenery there is a vast expanse of prairie, dense forests, grotesque stone forests and highland lakes.
    Known as "Little Tibet," it is far more easily accessible than Tibet.
    June to August is the best time to visit. The temperature this time of year is only about 15 degrees Celsius. The grassland scenery is at its best at this time.
    Gahai-Zecha National Nature Reserve is a must-go place. It mainly consists of two scenic spots, the Zecha Stone Forest and the Gahai Migrant Nature Reserve. The former has lifelike stones and the latter is an ideal summer resort with Gahai Grassland being one of the finest in the world.
    Sangke Prairie is one of the most important stockbreeding bases. There are two reception centers equipped with Tibetan tents. From July to September, they prepare dainty food with Tibetan flavors.
    Transport: Fly to Lanzhou, capital of Gansu Province, from Shenzhen airport, and take a coach to the prefecture.
    Fanjing Mountain, Guizhou Province
    Located at the junction of Jiangkou County, Yingjiang County and Songtao County within Tongren Prefecture, Fanjing Mountain is one of China's five holy Buddhist places.
    "Fanjing" means "pure Buddhist land." It is believed to have been bestowed upon the mountain in ancient times by Buddhist monks who came to the mountain to worship. It is also said that it was at Fanjing Mountain where Buddha Sakyamuni performed the rites that would save the souls of the dead.
    The mountain also has a well-preserved virgin forest, the largest of its kind in Guizhou Province. Rocks on the mountain are also worth mentioning. Most of the rocks have eroded over time, resulting in odd-shaped rocks, sheer cliffs, and narrow precipices.
    Well-known attractions include Huguo Temple, Bodao Peak, Jinding Peak, Zhenguo Temple, Mushroom Rock, Tianqiao Bridge and Prince Stone.
    Transport: Fly to Guiyang, capital of Guizhou Province, from Shenzhen airport and take a coach to Tongren City. Get to the mountain from Tongren by bus.
    Dinghu Mountain, Guangdong Province
    Dinghu Mountain in Zhaoqing City is known as the green gem of the Tropic of Cancer, and Dinghu Mountain National Nature Reserve was the first nature reserve in China, established in 1956.
    The mountain features peaks rising above ancient towering trees, waterfalls, fresh air, a variety of birds and colorful flowers. Since ancient times, it has been a tourist attraction and is sacred to Buddhists.
    The mountain is regarded as a natural, living museum. It is home to more than 500 species of plants, including 23 rare species in imminent danger that are under state protection.
    Ticket for admission is 60 yuan. There are also many well-facilitated resorts and spas in the mountain area.
    Transport: Buses depart for Zhaoqing from most city bus stations and then take a bus to the mountain.(Wang Yuanyuan)