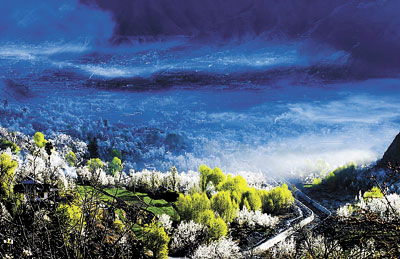 ABA Tibetan and Qiang Autonomous Prefecture is situated in northwestern Sichuan Province at the eastern end of the Qinghai-Tibet Plateau. This area is more than just the Jiuzhai Valley and Huanglong. Here are some stunning places in the area that are not very well-known to the public.
    Mouni Valley
    Located in Songpan County of Aba, Mouni Valley attracts people with its appealing landscape and unique cultures.
    The valley covers 160 square kilometers in area with a maximum altitude of 4,070 meters above sea level and a minimum of 2,800 meters. Because of its high altitude, the valley is filled with beautiful alpine scenery. There are lush primitive forests, clear alpine lakes, springs, waterfalls and pools. With an average temperature of 7 degrees Celcius, it is the place to go for a summer getaway.
    Hiking within the valley is joyful. There are two major sites with colorful views: Erdao Lake and Zhaga Waterfall.
    Erdao Lake is a long and narrow valley formed by a string of small lakes. From down the valley, you can see a chain of lakes scattered like pearls. Zhaga Waterfall is located at an altitude of 3,270 meters. It is a multi-level waterfall and each level has unique characteristics.
    Transport: Fly to Chengdu, capital of Sichuan Province, and take a coach to Songpan. Riding to the scenic spots by horse is highly recommended. A horse and groom can be hired in Songpan.
    Nianbaoyuze
    Located in the border area of Qinghai Province and Aba, Nianbaoyuze is a magnificent spot for rocks and lakes. Although the main entrance to the scenic area is located in Qinghai Province, it is easier to get to if you take the route from Aba.
    The entire area is formed by mountains with at least an altitude of 4,000 meters above sea level. Between the mountains are more than 300 lakes.
    Xiannu Lake, which is famous for its beautiful blue water, and Jiaonu Lake, known for its crystal-clear water, are the most famous lakes of them all.
    From June to August, flowers on the grasslands are in their full blooms. It is no surprise that the grasslands and lakes make the area an ideal place for camping from June to August. Camping gear can be easily bought or rented in the area.
    Transport: Fly to Chengdu from Shenzhen airport and take a coach to Aba. Take a bus to Dawu from Aba and walk to the area.
    Jinchuan County
    Jinchuan is known for its snow pears, and the beautiful snow pear blossom is surely the highlight of the county.
    Every March, the county becomes a sea of snow pear blossom, attracting photographers from all around the world to capture the magnificent plateau scene.
    The major areas for viewing the blossoms are Snow Pear Avenue in northern Jinchuan and Sha'er Township. Standing from the top of the mountain, you can have a great bird's-eye view of the white flowers.
    October and November are the other ideal months to visit Jinchuan, when the pure white sea turns into passionate red.
    Transport: Fly to Chengdu from Shenzhen, and take a coach to Jinchuan.
    Heishui County
    Heishui County is an autumn destination. Many people visit the county to see Cailin, the "colorful forest."
    Cailin is mainly formed by Naizi Valley, the Dagu Glacier, San'ao Snow Mountain, Kalong Valley and Hongjun Valley. Every autumn, trees on these five valleys and mountains turn to various colors, making the entire area a colorful corridor.
    The best places to see the forests are Naizi Valley and Kalong Valley.
    The Dagu Glacier is another must-see place. It is open to visitors all the year around, but the best time is from October to November. Annually, the area celebrates the Dagu Glacier Ice and Snow Tourism Festival from January to February, when various winter activities are hosted for visitors.
    Transport: Fly to Chengdu from Shenzhen and take a coach to Heishui.
    (Wang Yuanyuan)