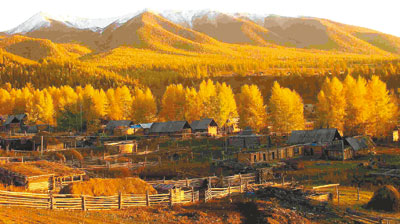 AUTUMN is not just about red leaves and golden grasslands — there are even more impressive fall sights that can be seen across China. So why not take a few days off and view some of these beautiful autumn scenes for yourself?
    Kanas Lake,
    Xinjiang
    Located in Burqin County in the Xinjiang Uygur Autonomous Region and sharing borders with Kazakhstan, Russia and Mongolia, Kanas Nature Reserve boasts an ecosystem formed of lakes, rivers, glaciers, forests and grasslands.
    The area is among the most alluring resorts in northern Xinjiang and one of its highlights is Kanas Lake, described as a pearl shining on the river. The color of the lake varies according to the seasons and weather.
    September and October are the best months to visit the lake because you can see various colors of flowers and trees in the mountain areas and blue water on the lake.
    The area is ideal for cycling. It is about 360 kilometers around Kanas and it takes about four to five days to finish a round-the-lake ride. About 25 percent of the route is along the Altay Mountain, which is difficult for cyclists, but the view makes it all worthwhile.
    It is recommended that you stay with a local family in Hemu Village if you want to experience the lifestyle of the area, which has barely changed since ancient times.
    Transport: Fly to Urumqi from Shenzhen airport and transfer to a flight or a coach to Altay City. Take a local bus or rent a car or a motorcycle to Kanas. You can also ride a horse with local guides from the city of Kanas.
    Gulangyu, Fujian Province
    Located off the coast of Xiamen, Fujian Province, Gulangyu Island is famous for its architecture, romantic scenes and as home to the largest piano museum.
    The island is really a Shangri-La-like tourist attraction. No road vehicles are allowed here, bicycles are the only means of transportation, making it an ideal spot for hiking and cycling.
    Riguang Rock is the most popular scenic spot on the island where you can get a bird's-eye view of the whole of Xiamen City. Although it's already September, the rocky area is still a sea of greenery and flowers.
    The island is also known as Piano Island because people here love to play the piano. As early as 1913, students in schools run by foreign teachers started learning piano on the island. The enthusiasm for music later spread to more ordinary people on the island. Many piano families have since come into being and raised accomplished musicians.
    There are also many old houses on the island. Most of these houses were built in the early 1900s and were abandoned as their owners emigrated abroad. In recent years, some houses have been bought and renovated as romantic cafés and restaurants, making the island a popular destination to experience romantic Western lifestyles and delicacies.
    Transport: Fly to Xiamen from Shenzhen airport, or take a high-speed train to Xiamen from Shenzhen North Railway Station. Get to the island by boat from downtown Xiamen.(Wang Yuanyuan)