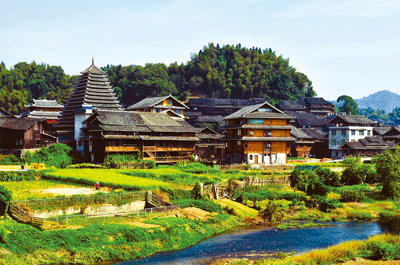 Guangxi, a neighbor of Guangdong Province, is an ideal destination for short family trips. With its famous karst formations, distinctive mountains and rivers, it has a lot to offer visitors. Here are some places in the Guangxi Zhuang Autonomous Region that you shouldn't miss.
    Yangshuo
    Yangshuo, 65 kilometers away from Guilin, is an internationally acclaimed tourist destination.
    Known as a "paradise for backpackers," the small county is popular because of its incredible karst scenery, beautiful mountains, rivers, caves and temples as well as its laid-back cafes and bars.
    The main tourist area within downtown Yangshuo is laid out roughly like a ladder. The two main tourist streets run more-or-less parallel up from the river and end at one of the town's streets. The most famous one is called West Street.
    There are also assorted smaller streets crossing between the two larger streets. Most of the buildings along the streets were built in the Ming and Qing dynasties.
    Most restaurant and shop employees on West Street can speak fluent English.
    There is a saying that the landscape of Guilin is the most beautiful in the world, but the landscape of Yangshuo is the most beautiful in Guilin. The section of the Lijiang River between Guilin and Yangshuo is the most attractive stretch. A recommended route is to hike along the riverbank in Yangshuo and rent a bike to ride back through the mountainous areas.
    Western-style cuisine is recommended when visiting Yangshuo. Local delicacies include rice noodles and fish in beer sauce.
    Transport: The high-speed train from Shenzhen to Yangshuo is not yet open for operation. The option now is to take a train to Guilin from Shenzhen and get to Yangshuo by coach or boat.
    Sanjiang
    The Sanjiang Dong Autonomous County is near Liuzhou City. It is a region traditionally inhabited by Dong ethnic people. The town of Chengyang in Sanjiang has become increasingly popular among backpackers in recent years.
    There are eight Dong villages in Chengqiao. Among them, a village called Chiao is the most famous. Houses in the village are all made of wood and are supported only by wooden legs. Inside the village, you will also find traditional drum towers.
    Fengyu Bridge (Wind and Rain Bridge) is a bridge that dates back to the 1920s. Together with beautiful mountains, fields and rivers, the area is an ideal place for those who want to experience a quiet, rural lifestyle.
    There are also many special activities in the area. The Dong people enjoy singing and dancing. They have various festivals, celebrations and events throughout the year, which are also something you cannot miss.
    Local delicacies include fish or pork in sour soup, rice wine and glutinous tea.
    Transport: Take a train to Liuzhou from Shenzhen and take a coach to the county.
    Beihai
    Beihai is considered a romantic city because of Silver Beach.
    The beach, 10 kilometers away from downtown Beihai, stretches 24 kilometers from west to east. It is reputed to be the best beach in China for its even shoreline, fine and white sand, clean and warm water and gentle waves.
    Known as "Eastern Hawaii," the beach area has three sections: Beihai Silver Beach Park, Beihai Beach Park and Hengli Ocean Sports and Entertainment Center. There are also many villas and restaurants around the area.
    Water sports are recommended when visiting the beach.
    Local delicacies are mainly seafood dishes.
    Transport: Take a train to Beihai from Shenzhen and take a taxi to the beach.
    (Wang Yuanyuan)