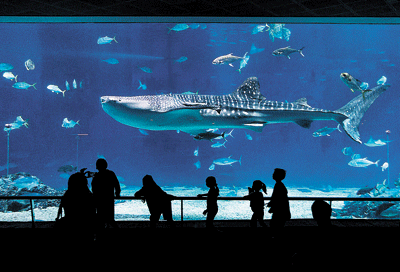 IT'S never easy to travel with children — it's even harder to find a destination that will entertain both adults and children. As the country eases into a cozy autumn, why not take your children to some beautiful towns that also provide intimate activities for you and your spouse. Here are some recommended choices for you.
    Kenting, Taiwan
    Taiwan's southernmost town of Kenting covers a long and narrow territory with a border defined by mountains to the north and the Pacific Ocean to the east.
    Due to its subtropical location, the town enjoys spring-like weather all year round. Graceful coconut trees add to the town's ample South Pacific charm. A view of the town's center is a must-visit spot for travelers.
    It is also home to Kenting National Park, Taiwan's first national park. Other popular attractions include the island Eden of Xiaoliuqiu, Dapeng Bay, Maolin National Scenic Area and Saijia Air Park.
    The coastal areas in Kenting are excellent choices for coastal recreation. Exploring the beauty of the coral reefs or hunting for shells on the beach will be great fun for your children.
    The place is also a winter stop for migratory birds, including shrikes and gray-faced buzzards, making this a good spot to embrace nature and teach your kids about their feathered friends.
    Cingjing Veteran Farm is another recommended spot for families because children can play with and feed little sheep there.
    Neighboring Kaohsiung is a recommended destination for learning local history and enjoying local delicacies.
    Transport: Fly to Taipei from Shenzhen airport and take a coach or train to Kenting.
    Xishuangbanna, Yunnan
    Xishuangbanna is the home of the Dai people. Bordering Myanmar and Laos, it has always been seen as a romantic destination full of ethnic culture and traditions.
    In fact, Xishuangbanna is not only home to beautiful Dai ladies — it is also home to an abundance of plants and the last few Asian elephants still in China.
    Xishuangbanna Tropical Botanical Garden, located in Mengla County, is a recommended spot to spend a day with your children. The site is a gourd-shaped peninsula almost totally surrounded by the Luosuo River, a branch of the Mekong River. Still home to a large tropical rainforest, it is an ideal place for studying tropical plants and rare botany.
    Another must-go place is Wild Elephants Valley, which lies at the crossroad of the eastern and western zones of the Mengyang Tourism Area. This is the best place to see wild elephants. In the main scenic spot, you can walk on an elevated corridor and enjoy the scene of wild elephants bathing, playing in water and seeking food.
    Other recommended spots include Ganlanba, which is a beautiful place to learn about and experience the customs and culture of the Dai ethnic group. There are many traditional Dai bamboo buildings and Burmese temples in the villages.
    You will need a raincoat if you visit the area in October.
    Transport: Fly to Kunming, capital of Yunnan Province, and take a coach to Xishuangbanna.
    Lishui, Zhejiang
    Lishui lies in the southwest of Zhejiang Province. It is a small city with a 2,000-year history.
    Surrounded by mountains and hills, Lishui enjoys rich resources and various specialties. There are more than 3,800 breeds of plants growing in the city, making the city a natural botanical garden. Recommended spots include Fengyang Mountain, Baishanzu and Jiulong Mountain.
    Traditional arts and crafts are also famous, such as stone carving, double-edged sword and celadon, wooden toys and black pottery. There are many places in the city where you and your children can experience traditional Chinese arts.
    Transport: Fly to Hangzhou, capital of Zhejiang Province, and take a coach to Lishui.
    (Wang Yuanyuan)