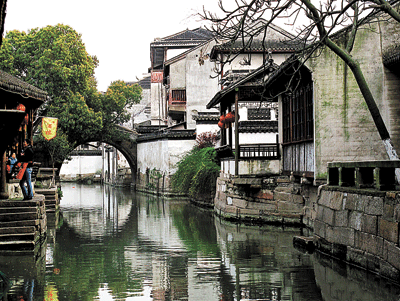 CHENGDU, the capital of Sichuan Province, and Zhouzhuang, a well-known ancient water town in Jiangsu Province, are the only two Chinese cities on New York Times' "52 places to go in 2015" list thanks to their relaxed and traditional lifestyles. Here are some highlights of these two famous tourist spots in China.
    CHENGDU,
    Sichuan Province
    Located in Southwest China, Chengdu is the capital of Sichuan Province and one of the most important economic, transportation and communication centers in West China.
    Known as the "Country of Heaven," the area is famous for its beautiful scenery, long history, tasty delicacies, relaxed lifestyle and beautiful girls.
    An important hub for at least 4,000 years, Chengdu is also a major tourist destination. Moreover, other major tourist destinations in Yunnan Province, Shaanxi Province, Qinghai Province and Tibet are all within a short distance from Chengdu. Sichuan Province is a great place to travel through and travelers in Chengdu can easily take buses, rent cars or hire travel agencies.
    The city is also known as a "city of leisure" in China. Teahouses can be found in nearly every corner of the city. Locals gather at teahouses to play cards, do business and enjoy the local Molly tea.
    Due to the fast development of the city, the city has few remaining traditional Chinese teahouses with stone tables and bamboo chairs. If you want to experience old Chengdu, you can go to the People's Park and Wanjiang Park where old men play cards, feed pigeons and drink tea in ancient teahouses.
    Kuanzhai Alley is another must-go place in Chengdu. The site was rebuilt on the ancient residential houses in downtown Chengdu and is now a big leisure area featuring restaurants, cafes, pubs, nightclubs and shops.
    Sichuan cuisine is one of the most popular Chinese cuisines in the world. Unlike Cantonese food with its light taste, Sichuan cuisine is famously spicy.
    The city boasts one of the most diverse arrays of snacks in the country.
    Popular snacks include minced noodles, spicy dumplings, wontons in chicken soup, Chinese jelly made with rice, green beans and millet, egg cake, pork buns and all kinds of spicy noodles.
    There are also various types of fresh vegetables and fruits to choose from thanks to the area's fertile soil.
    Transport: Fly to Chengdu from Shenzhen airport.
    ZHOUZHUANG,
    Jiangsu Province
    Situated in southeastern Jiangsu Province, Zhouzhuang is the most famous and beautiful ancient water town in China.
    Built in 1086, the town has a history of more than 900 years. In an area of half a square kilometer, 60 percent of Zhouzhuang's structures were built during the Ming (1368-1644) and Qing (1644-1911) dynasties.
    Zhouzhuang is surrounded and divided by lakes and rivers. Fourteen stone bridges crossing the rivers provide unique views of the water town. Twin Bridges, which is comprised of Shide Bridge and Yong'an Bridge, is the most famous and is considered the symbol of Zhouzhuang. Built during the Wanli era (1573-1619) of the Ming Dynasty, Twin Bridges looks like old-style Chinese keys connecting the town and the rivers.
    Besides bridges, there are also many old residential houses in the town.
    A recommended place to visit is Shen House. Built in 1742 and located on the southeast side of Fu'an Bridge, Shen House was the private property of a descendant of Shen Wansan, the first millionaire in the Jiangnan area during the Ming Dynasty. The whole architectural complex is in the Ming's style and occupies an area of more than 2,000 square meters. Over 100 rooms are divided into three sections and each one is connected by arcades and aisles. The house is not only representative of traditional Jiangnan-style architecture but also an ideal gallery to learn about Chinese traditional culture and art.
    Other recommended places in the town include Fu'an Bridge, Zhang House, Miluo Tower and Chengxu Taoist Temple.
    Zhouzhuang is also known for its traditional Jiangnan-style food, such as glutinous rice balls, pork stew, rice cakes, vegetable balls, fresh fish and dried duck.
    The water town is very beautiful all year around. However, it is recommended to visit during off-peak travel seasons to enjoy the peaceful and relaxed ancient lifestyle.
    Transport: Fly to Nanjing, capital of Jiangsu Province, and take a coach to Zhouzhuang.
    (Wang Yuanyuan)