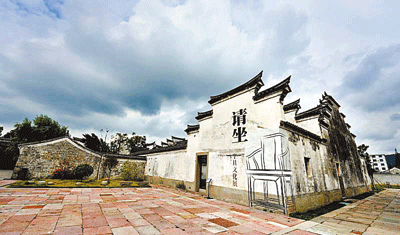 UNLIKE many ancient Chinese towns that are being choked by tourism, Cicheng, a small ancient town in Ningbo, is trying to explore a different path with its exquisite handicraft culture and history.
    A town of history
    Located about 10 kilometers northwest of Ningbo City, Zhejiang Province, Cicheng is a small historic town that has not been over-exposed to the outside world.
    The history of the town dates back to the Spring and Autumn (770-476 B.C.) and Warring States (475-221 B.C.) periods. With its long history, it is known as the "most charming ancient town south of the Yangtze River" for its beautiful scenery, city walls and abundant cultural relics.
    Geographically, the town is surrounded by mountains on three sides and faces the Yaojiang River and the Cijiang River.
    The layout of the town is a typical traditional Chinese town, with four walls surrounding a square chessboard of streets and lanes. The north-south Central Avenue is the axis of the town, with the Temple of Confucius at the center and the government office at one end.
    Cicheng has been home to many well-known scholars, artists, political figures and high-ranking government officials since ancient times.
    Between the Tang (618-907) and Qing (1644-1911) dynasties, Cicheng produced 519 jinshi (successful candidates that passed the highest imperial examinations) and more than 1,000 high-rank officials in the central government. Well-known artists, writers, bankers, entrepreneurs, and professors in modern time include Tan Jiazhen, a world-renowned geneticist, Feng Jicai, a well-known Chinese writer, and Ying Mingchang, a great inventor.
    Because of its long history and rich culture, there are many historic sites standing in the small town. Recommended places to visit include Enrong House and the Xiang's Residence.
    A town of handicrafts
    For thousands of years, Ningbo thrived on handicrafts such as cloth weaving, embroidery and pottery. With the introduction of mass production, Cicheng is now one of the few remaining places in the area that still has traditional artisans.
    The resettlement of Cicheng has made it a place to learn and experience traditional Chinese art.
    Cicheng Creative Park is now a place for art lovers. There are many studios and workshops in the area, showcasing and teaching traditional techniques such as embroidery, pottery and kite making.
    Over the past few years, a lot of young urbanites have quit their jobs in big cities and settled down here to fulfill their art dreams or recharge their spirits.
    "It's not easy to start an art business, but I feel fulfilled by creating my own artwork," said Luo Fang, a Shanghai girl who came here to start her own patchwork workshop. After five years of hard work, she has already had many students from across the country.
    In the park, visitors also have a chance to learn and experience making traditional handicrafts. There are numerous shops and studios that sell exquisite art pieces at cheap prices, and a lot of the workshops allow visitors to learn the techniques and make their own art pieces.
    There are also many well-known spots to explore in the neighboring areas such as Putuo Mountain, Tianyi Square, Chenghuang Temple, Wolong Pond and Xuedou Mountain.
    The area is also known for its delicacies. When visiting Cicheng, sticky rice cake is a must-try. Other local delicacies include soup buns, crayfish, duck, wontons and Ningbo-style pastries.
    (Wang Yuanyuan)