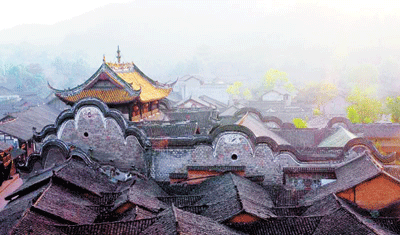 KNOWN as the world's largest Hakka town, Luodai Ancient Town is about 18 kilometers away from downtown Chengdu. There are now more than 20,000 Hakka people settled in this town, making up nearly 90 percent of the local population.
    The town has a history of more than 2,000 years. Its records date back as early as the Han Dynasty (206 B.C.-A.D. 220). As years went on and with development, it grew and developed into a district of a small town.
    Traditional architecture
    Luodai is a well-preserved town, and many historical buildings still remain, telling tales of the past.
    The whole town mainly consists of one street and seven alleys. Among all the buildings, there are four Hakka guildhalls — Guangdong, Jiangxi, Huguang and Chuanbei halls are the most famous.
    The main street is paved with slab stones and consists of an upper street and lower street, with a length of 1,200 meters and a width of nine meters. The seven alleys crisscross both sides of the main street.
    The four guildhalls are especially of great historical and artistic value. The architecture of the guildhalls is of typical Ming (1368-1644) and Qing styles (1644-1911), with delicate and vivid carvings of dragons, phoenixes, flowers and birds.
    Among the four distinctive halls, the most famous is Guangdong Hall. It is also known as Nanhua Palace and was built in 1746. It has an area of 3,310 square meters. The hall is one of the most well-preserved and largest guild halls in China. The couplets carved on the wall reflect the ancestors' hardships starting a new life and their loneliness while being away from their hometown.
    Other worth-visiting buildings in the town include the Hakka Museum and Hakka Park.
    Various activities and delicacies
    There are many traditional Hakka activities in the town that you will not see in other parts of the Sichuan Province, such as the Fire Dragon Festival and the Water Dragon Festival.
    Liu Family Dragon is the most prestigious Hakka dragon dance group in Luodai.
    The family has lived in Luodai for 14 generations, spanning more than 300 years. The actors are all from the Liu family, whose ancestral home is in Jiangxi. They perform both the fire dragon dance and the water dragon dance at different times for different purposes. During the Lantern Festival, which falls on Jan. 15 on the Chinese lunar calendar, the fire dragon dance is performed to pray for blessings while the water dragon is performed in summertime to beg for rain.
    Audiences can join in the performances by setting off fireworks or sprinkling water on the dragon.
    Luodai is also known for its snacks, which combine Hakka- and Sichuan-style cuisines. The most famous and popular local snack is shangxin liangfen (sad rice jelly). There are many interpretations of the word "sad" in this context, but most people think that it is called "sad" because the rice jelly is so spicy that makes you cry.
    Other recommended local snacks include cold noodles in hot sauce, sweet rice cakes in brown sugar sauce, fried sticky rice balls and pastries.
    Nearby attractions
    There are many other places worth visiting in the neighboring areas.
    Yudai Lake is an ideal spot for those who love outdoor activities and natural scenery. The lake is surrounded by flowers and trees all year round, with fresh air and a great natural environment. Activities such as boating, cycling and hiking are all pleasant experiences in spring and autumn.
    The Jinlong Great Wall is another must-visit spot for history lovers. The Jinlong Great Wall (literally meaning Golden Dragon Great Wall) is the largest simulated Great Wall in China. It is 1,680 meters long, four meters tall and three meters wide with five beacon towers. At the entrance to the wall there is a big arch engraved with many dragons. If you walk along the wall to the top of the hill, you will find Jinlong Temple. (Wang Yuanyuan)