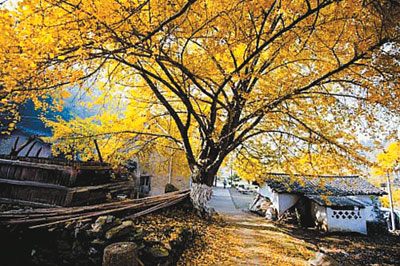 GINGKO trees are also known as one of the tree species with the longest lifespan. Last week, we recommended two places for experiencing the magic of life. This week, we will take you on a tour around other parts of the country to appreciate the last golden leaves of the year.Suizhou, Hubei ProvinceSuizhou is a historic city in northern Hubei Province, known for its antiquity, unique culture and beautiful scenery.
    Not many people know that Suizhou is home to Gingko Tree Valley. Within the attraction area, there are thousands of ancient gingko trees spreading over the valleys and mountains. The popular movie "The Assassin," which was released this year, has made the valley known to the outside world, so it would be ideal to visit the isolated valley now before it is infiltrated by large crowds.
    There are also many other things to see in the city. The city is the hometown of Shennong (Patron of Agriculture, or Emperor Yandi, who is one of the forefathers of China along with Emperor Huangdi). According to historical records, Shennong was born in Lieshan Mountain in Suizhou, which later became a holy place for many overseas Chinese to pay respect to their ancestors.
    It is also the hometown of ancient chime bells. A chime bell is a unique ancient instrument, known as the symbol of the Chu State in the period of the Warring States (475-221 B.C.). A complete set of chimes consists of 60 bells, which is now a rare and delicate treasure in Chinese music and cultural history. Natural sceneries include Dahong Mountain and Shennongjia.
    Transport: Fly to Wuhan, capital of Hubeii Province, and take a coach to Suizhou.Qianchong,
    Hubei Province
    Qianchong Gingko Valley is located at Wangyi Town in Hubei Province, and is a national-level ginkgo forest park.
    The valley has the largest forest of ancient ginkgo trees in central China. There are 48 ancient ginkgoes that have lived for over 1,000 years, 180 over 500 years and 4,370 over 100 years.
    The ancient ginkgo trees here are not only unusually large in number and exceptionally old, but they also have various tree shapes, which earn them titiles like the couple tree, the lover tree, the descendant tree and the tree of mother and child.
    Qianchong Village itself is also worth visiting. The small village has retained its ancient lifestyle and has many ancient buildings of the Chu style.
    Gingko cuisine is also recommended when visiting the village. Recommended dishes include stewed gingko and chicken, fried gingko with sweet corn and chicken and dried gingko. Local vegetables are also recommended.
    Transport: Fly to Wuhan from Shenzhen airport and take a coach to Anlu City. Take a taxi or local bus to the valley.
    (Wang Yuanyuan)