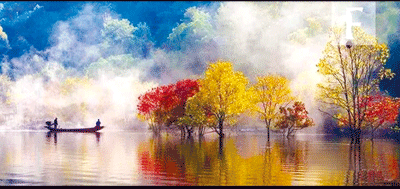 Many people think that winter may not be the best time to travel. However, this is not the case in China. Here are some winter wonderlands that you can wish for a surprisingly memorable trip.
    Cherry Blossom Valley,
    Yunnan Province
    Cherry blossoms are usually considered a symbol of spring, but the romantic pink flowers are now in full bloom at Cherry Blossom Valley in Wuliang Mountain, Dali, in Yunnan Province.
    The winter cherry blossom in Wuliang Mountain is a special cherry blossom species that can only be found in Yunnan Province. More than 10 years ago, a Taiwanese businessperson visited the mountain and opened a tea garden. In order to provide more shade, he planted thousands of winter cherry blossom trees amongst the tea plants. Interestingly, his unintentional move has made this place a popular attraction known for its unique winter scene with tree-covered mountains, cherry blossoms and a gentle mist.
    December is the best time to see the blossoms, but they only bloom for two to three weeks.
    Located in the area bordering Dali, Pu'er and Lingcang, Wuliang Mountain is a well-known tea production base in China.
    There are many tea gardens and factories within the mountain area, many of which offer exhibitions and programs on tea culture. You can also buy many high-end Chinese teas at very cheap prices.
    In the neighboring area, one of the most famous tourist cities in China, there are also many places worth visiting. Recommended spots include Dali Ancient Town, Cangshan Mountain, Erhai Lake and Tiger Leaping Gorge.
    Transport: Fly to Kunming, capital of Yunnan Province, and take a coach to Dali. Take a taxi to Wuliang Mountain from Dali.
    Fenghuangguan Water Reservoir, Hubei Province
    Located in Huanggang City, Hubei Province, Fenghuangguan Water Reservoir is a winter wonderland that has just become known to the public in the last year.
    In early December, the red autumn leaves are still flaming at the water reservoir. When the reservoir water level goes up, the Chinese tallow trees on the fields are flooded, forming a romantic scene of "red leaves on the water."
    In the morning when the autumn mist is around the trees on the water and fishers pass by on their little boats, the whole area becomes a fairyland from a traditional Chinese painting.
    The best time for photographers is from 6:30 a.m. to 9 a.m. in December.
    When visiting the water reservoir, local fish dishes are something you cannot miss. Recommended dishes include stewed fish balls, stewed fish with soybeans and fried fish.
    Transport: Get to Wuhan, capital of Hubei Province, from Shenzhen via flight or high-speed train, and take a coach to Fengshan Township. Take a taxi to the water reservoir.
    Yakeshi, Inner Mongolia
    Located in the northern area of Inner Mongolia, Yakeshi is a small city situated next to the Hailar River and the Great Xing'an Range.
    Since the forest protection work that was carried out 10 years ago, beautiful scenery in Yakeshi has attracted many tourists to experience its vast grassland and majestic mountains.
    Although it's just the beginning of December, Yakeshi is already in deep winter. The area is covered by snow, forming a unique snowy forest scene in northern China.
    Winter activities are highly recommended when visiting in December. There are ski resorts in the area. While skiing, you can enjoy a bird's-eye view of the grassland, rivers and all types of traditional village scenes.
    Close to the abundant Great Xing'an Range, local cuisine with beef, lamb and chicken are all recommended. There are also Mongolian-style dishes such as kumis, aaruul (dried curds) and barbeque lamb. Other special local delicacies include pine nuts and black fungus.
    Transport: Fly to Qiqiha'er from Shenzhen and take a train to Yakeshi. (Wang Yuanyuan)