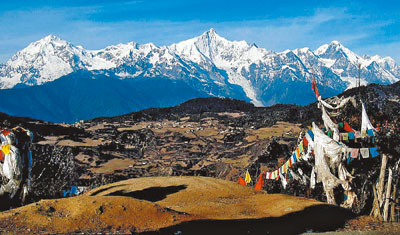 Meili Snow Mountain,
    Yunnan Province
    Many people think that winter may not be the best time to travel. However, this is not the case in China. Here are more winter wonderlands that you can visit for a surprisingly memorable trip.
    ————————————————
    Meili Snow Mountain is a sacred mountain located in Deqing Tibet Autonomous Region in Yunnan Province.
    Known for the grandest view in the province, the mountain boasts numerous snow-clad ridges and peaks, 13 of which exceed 6,000 meters above sea level. The most splendid view is from Kawagebo Peak, the highest in the province rising about 6,740 meters.
    It is still a "virgin peak" as no one has ever reached the top. It is a challenge for all mountain explorers around the world.
    The continuous mountain ridges feature snowy peaks and the sun throws golden light on the low-floating clouds that form extraordinary shapes and magnificent views. Dense fog and clouds made it a gleaming sight to see. You can also enjoy a panoramic view of the 13 peaks from Feilai Temple located in the west of Deqing County.
    It is said that every 12 years is a new cycle for Meili Snow Mountain, and this year is the beginning of a new cycle. Therefore, many Tibetans will have a round-the-mountain worship if they have a chance. Although you may not have the same faith as the Tibetans, it would still be interesting to share the experience with them.
    There are normally two ways to perform round-the-mountain worship, including the internal and external circle. It takes about 15 days for an external trip.
    Transport: Fly to Kunming, capital of Yunnan Province, and take a train to Deqing.
    Sandu Township,
    Zhejiang Province
    ——————————————
    Located between the mountains in Songyang County, Zhejiang Province, Sandu Township is a small town hardly known by the outside world.
    Due to the inconvenience of travel, the county has become a home to more than 10 well-preserved ancient villages. Among the list are Yangjiatang, Zhoushantou, Chenghui and Zicao villages.
    Most of these villages were built in the Qing Dynasty (1644-1911), and the villagers are still living a traditional lifestyle. It is an ideal place for those who want to learn and experience Chinese traditions and cultures in the Jiangnan region.
    Interestingly, there is a hiking track connecting all the villages in the area. The track was rebuilt on the ancient road that connected the area last year. Along the track, there are many places worth visiting, including 324 precious ancient trees and numerous ancient temples.
    There are also many local eateries, offering local cuisine and traditional delicacies to visitors.
    Unlike the summer time, the winter in the town is very quiet, but you can still enjoy the track and the scenes due to the relatively warm climate in the area.
    Transport: Fly to Hangzhou, capital of the province, from Shenzhen airport and take a coach to the county. (Wang Yuanyuan)