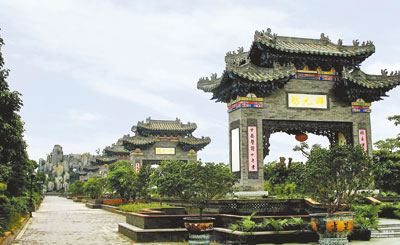 When speaking of traditional Chinese gardens, Humble Administrator's Garden in Suzhou, Jiangsu Province, and the Summer Palace in Beijing are always the first two to pop into your mind. However, you don't need to travel that far to explore the beauty of a traditional Chinese garden. There are plenty of options for you here in Guangdong Province that are ideal for a weekend getaway.
    Keyuan Garden, Dongguan
    Keyuan Garden is one of the four famous Qing-style gardens in Guangdong Province. Lying west of Dongguan, it covers an area of 2,200 square meters in a triangular shape.
    Built in 1850 by Zhang Jingxiu, a deposed military officer, the garden is a multifunctional space that is made up of a living room, a villa, a yard, gardens and a study area together skillfully in a limited area. Built in the classical style, it has dozens of traditional buildings, including pavilions, ponds and bridges, and most of the building names include the character "ke," which means "cute and delightful" in Chinese.
    Like other gardens in southern China, the buildings, the flowers, the hills and the lakes in Keyuan blend with the surroundings harmoniously. You will find perfect scenery wherever you stand. It is also easy to get lost in its complex design.
    The garden also plays an important role in the modern history of Chinese painting and calligraphy. Although Zhang was a military officer, he mastered painting, calligraphy, chess and poetry. After he retired from the army, he invited two famous painters to paint in the garden all year round. Their painting laid the foundation for the Lingnan School, which is an important painting school in China's painting history.
    Transport: Take a coach or train to Dongguan from Shenzhen, and take a taxi to the garden.
    Yuehui Garden, Dongguan
    Covering an area of 0.5 square kilometers, Yuehui Garden is China's largest classic private garden and is comprised of more than 100 scenic spots.
    The garden is a masterpiece of South China-style gardens, equally as famous as Beijing's royal gardens and Jiangsu's private gardens. In this garden, you can take in the grand sight of South China's culture and the essence of poems, calligraphy, traditional paintings and antiques.
    The garden is also recognized for its exquisite design that combines traditional Chinese garden art with modern styles. With pavilions, winding corridors, stone bridges, rockeries, ancient trees and willows and streams cascading and flowing around the garden, the garden itself is a vivid traditional Chinese painting.
    Recommended spots include Fanwen Hall, Guishui Bridge, Nanyun Hall, Ziyanya and Wuyuan Gate.
    Transport: Take a coach or train to Dongguan from Shenzhen, and take a taxi to the garden.
    West Lake, Huizhou
    Located in downtown Huizhou, West Lake is a stunning park covering an area of 3.2 square kilometers with 1.4 square kilometers of water.
    It consists of five lakes, six adjoining bridges and 10 particular spots to look out for. The most popular site is Huizhou's oldest building, the Sizhou Pagoda. Built during the Tang Dynasty (618-907), this octagonal pagoda, consisting of seven floors, was destroyed in 1564 and rebuilt in 1618.
    Other main sightseeing spots include Pinghu Lake, Fenghu Lake, Nanhu Lake, Linghu Lake and Ehu Lake, Su Dam, Elephant Mountain, Hua Dam and Gongbei Bridge.
    The lake is also an ideal place for bird watching. Various birds such as grey aigrettes and white cranes nest on Crane Island, Pipa Island and Xuezi Island in the lake. At dusk, thousands of birds fly around the lake. The best places to see the birds are Yanlong Bridge and Yuantong Bridge.
    Transport: Take a coach to Huizhou and take a taxi to the lake.(Wang Yuanyuan)