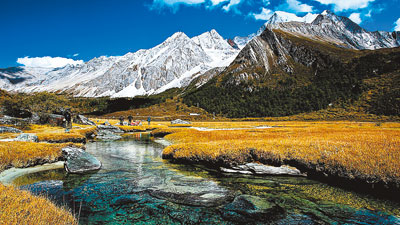 YOU may think that there is no better place than Shenzhen to enjoy a warm and fun winter in one of the many hot spring resorts in the area. However, you may find these places too crowded to relax and enjoy. So why not take a long trip to somewhere nice and quiet. Here are some recommended hot springs that are not very well known to the public.
    Tibet
    Dezong Hot Spring
    Dezong Hot Spring is one of the four sacred hot springs in Tibet and is located 140 kilometers from Lhasa, the capital of Tibet.
    The hot spring has a 1,400-year history. The water's temperature remains about 40 degrees Celsius year-round and the pools have a depth of about 1.2 meters.
    Most of the springs here are outdoors. Although there is snow in the area this time of year, you will not feel cold at all when in the spring. The water has many minerals that are good for your health. Locals believe that the spring water here can help cure many diseases.
    Transport: Fly to Lhasa from Shenzhen airport, and take a coach to Dezong.
    Pailong Hot Spring
    There are many hot springs along the Sichuan-Tibet Road in Nyingchi County, Tibet, but Pailong Hot Spring is the most special one.
    It is a very small spring resort with only two pools. Each pool can only hold three to five people.
    The hot spring is known for its beautiful scenery. With a river by your side and ancient trees around you, you will feel completely ensconced in nature.
    Transport: Fly to Lhasa from Shenzhen airport and take a coach to Nyingchi. Rent a car to the hot spring.
    Sichuan
    Rubuchaka Hot Spring
    Rubuchaka Hot Spring is a well-known hot spring resort in Ganzi County, Sichuan Province.
    The water here is from Gongba Mountain with a temperature of 60 to 80 degrees Celcius, which is clean and healthy. It does not contain sulfur and can be drunk directly from the pool.
    The tourist facilities around the hot spring are very well-developed. You can also enjoy local dances and performances while inside the pools.
    Transport: Fly to Chengdu, capital of Sichuan Province, and take a coach to Daocheng. Take a bus to the hot spring from downtown Daocheng.
    Lotus Lake Hot Spring
    Lotus Lake is known as one of the most beautiful lakes in the Gongga Mountain area. The lake is as beautiful as the famous Mugecuo Lake in the area but receives fewer visitors.
    Because the area is still undeveloped, it is a favorite spot for many hikers. Many of them hike to the lake from Wuxuhai Lake, and nothing feels better than relaxing in this free hot spring resort after a long walk.
    There is also a big grassland by the lake, which is ideal for camping.
    Transport: Fly to Chengdu from Shenzhen and take a coach to Kangding. Get to the lake by coach in downtown Kangding.(Wang Yuanyuan)