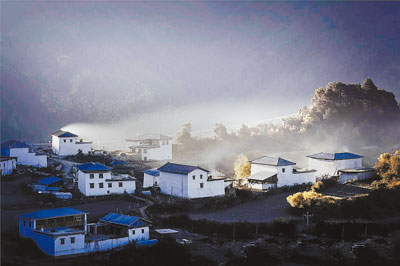 YOU may think that there is no better place than Shenzhen to enjoy a warm and fun winter in one of the many hot spring resorts in the area. However, you may find these places too crowded to relax and enjoy. So here are more recommended hot spring spots for a warm and healthy trip.
    Jiangzha Hot Spring,
    Sichuan Province
    Jiangzha Hot Spring is a very famous hot spring in the Tibetan regions of Tibet and Sichuan Province. Known as a sacred spring, it is said to be very clean and healthy for the human body.
    The hot springs are located in the mountainous regions. By the banks of a river, there are more than 50 spring mouths. Water comes down from the mountains, turning the rocks into beautiful and mysterious verdigris color.
    The hot spring is close to Lilangmu Temple and Zhaganadu, both are famous tourist spots in the area, which makes it an ideal stop for relaxing.
    Transport: Fly to Chengdu from Shenzhen and take a coach to Nuo'ergai Grassland. Take a bus or rent a car to the hot springs.
    Xidang Hot Spring,
    Yunnan Province
    Located in Deqin City in Yunnan Province, Xidang Hot Spring is a popular spot for hikers as it is located close to the hiking trail between Feilai Temple and Yubeng.
    For pilgrims, the hot spring is also seen as sacred. When they go to Yubeng on a pilgrimage, they always stop at Xidang Hot Spring to cleanse themselves and then complete their pilgrimage to Yubeng with a pure body.
    However, since the hot spring is located right at the starting point of the trek to Yudang Village. It is important for hikers to plan their time and schedule so that you are able to get to the village before dark.
    Transport: Fly to Kunming from Shenzhen airport, and take a coach to Deqin. Take a bus or taxi to Feilai Temple, and walk to the hot spring.
    Yongning Hot Spring,
    Yunnan Province
    Located in Hot Spring Village near Yongning Dam, Yongning Hot Spring is a must-go place for many travelers to Lugu Lake.
    Spring water gushes from rock crevices at the foot of Wudu Mountain. The water, clear year round, is fit for bathing during any season. It is said that the water is hot enough to boil eggs, and eggs boiled in hot spring water are said to be very healthy.
    The spring has a constant temperature of 37 degrees Celsius. The water contains hydrogen sulfide, which is considered beneficial to human bodies, especially in the treatment of skin diseases and rheumatic arthritis.
    In the past, Yongning Hot Spring was only a 50-square-meter natural pond. In the off-season, neighboring locals from the Mosuo ethnic group would come to bathe together and picnic in a nearby field. It is a popular way for young people to make friends.
    Transport: Fly to Kunming from Shenzhen airport, and take a plane to Lugu Lake. Then take a coach to the hot spring.
    Mengla Hot Spring,
    Yunnan Province
    Located in the southern part of Yunnan Province, Jinping Mengla Hot Spring is particularly good for spa enthusiasts. Even in freezing December, when most northern regions struggle with heavy snows and strong winds, Jinping still enjoys April-like weather.
    The hot spring water gushes from holes in the rocks at a temperature of 50 to 60 degrees Celsius and contains plenty of organic minerals with natural cleansing properties.
    The spot is still not developed yet. A pebble-covered pool is used by locals for natural massages, and men and women bathe together, which might make some tourists uncomfortable. Yet this is just one of the many charms to be enjoyed in this Dai ethnic area.
    Transport: Fly to Kunming from Shenzhen airport, and take a coach or a train to Honghe Prefecture. Get to the spring by taxi.
    (Wang Yuanyuan)