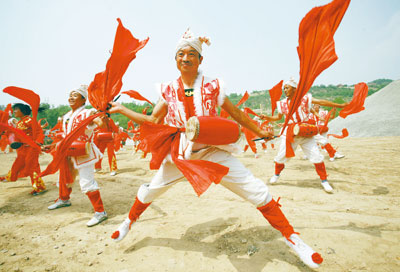 SPRING Festival, the most important and happiest festival in China, is coming in February, and it's again the best time of year to explore traditional Chinese celebrations and cultures. Different areas in China have different events, customs and holiday foods. This week, we will continue telling you about the best places to spend the Chinese New Year.
    Ansai,
    Shaanxi Province
    Located in Shaanxi Province, Ansai is a special city with a long history and splendid ancient culture. Its unique customs, particularly around the Chinese New Year, attract many visitors from around the world.
    Chinese Waist Drum Dance is widely known around the world, but not many people know that Ansai is the birthplace of this Chinese signature dance.
    The Ansai Waist Drum Dance is a unique, large-scale folk dance with a history of more than 2,000 years. The dance displays the unsophisticated and wild character of peasant life on the Loess Plateau, revealing its unique artistic charm.
    It is majestic and has boundless vigor, integrating dance, song, martial arts, gymnastics, and singing. The changeable procession is powerful and vigorous, bold and unrestrained, which is ideal for a celebration like the Chinese New Year.
    There are many local performances within the city during the festival, and different villages will have their unique styles and movements to attract attention.
    Ansai is also famous for its paper-cutting art. Paper-cutting is considered to be both bold and unconstrained as well as an interesting and skillful art. Paper-cutting in Ansai is an important folk art.
    During the Spring Festival season, every family in Ansai will put their paper-cuttings in the windows to celebrate the festival and wish for a great new year. The red works of art give the city a happy and festive mood.
    Transport: Fly to Xi'an, capital of Shaanxi Province, and take a coach to Ansai.
    Pingyao,
    Shanxi Province
    Pingyao in Shanxi Province is the best-preserved ancient town in China. Originally built during the Western Zhou Dynasty (1046-771 B.C.), it boasts a history of over 2,700 years.
    There are three key National Protected Relics in Pingyao, namely Pingyao City Wall, Shuangxiu Temple and Zhengguo Temple. It was named a UNESCO World's Heritage site in 1997.
    UNESCO says that Pingyao is an outstanding example of a Chinese city of the Ming (1368-1644) and Qing (1644-1911) dynasties that has retained all its features to an exceptional degree, and in doing so provides a remarkably complete picture of cultural, social, economic, and religious development during one of the most seminal periods of Chinese history.
    There are various activities and festive events during the Chinese New Year period, such as local plays, dance performances, free entry to the town and discounts to some famous historic sites.
    Local shops and restaurants are also in a festive mood with red lanterns hanging by the front doors and Shanxi-style paper-cutting on the windows.
    Restaurants will also offer different types of traditional New Year delicacies. The most unique and famous ones include Shanxi-style grilled pork, pork stew and Shanxi-style deep fried tofu.
    There will also be parades with locals dressed in traditional Chinese costumes.
    Transport: Fly to Taiyuan, capital of Shanxi Province, from Shenzhen airport, and take a coach to Pingyao. (Wang Yuanyuan)