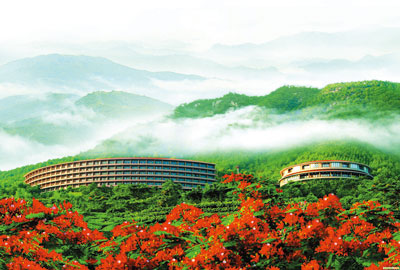 THE long Spring Festival holiday just ended. Although it was a time of joy and love, you may still find yourself busy and exhausted from all the holiday activities. What could be better than a hot spring to relax and rejuvenate yourself? Here are three award-winning spots that may help prepare you to face the next year.
    Yunding Hot Spring Resort,
    Longmen
    Located in famous Nankun Mountain, Yunding Hot Spring Resort in Huizhou is an ideal place to relax after the busy holiday and get you ready to go back to work.
    The resort has 326 luxury suites and 63 outdoor spa pools featuring different functions and sceneries.
    There is also a large water park that offers different kinds of facilities for children to play in and enjoy. A private spa area was built last year.
    The resort will launch a one-day tour for guests soon, offering various activities in the area such as fruit picking at nearby farms.
    In addition to the springs, you can explore Nankun Mountain.
    The mountain covers 1,077 hectares. Of particular note is mythical Tiantang Peak, rising to 1,280 meters. There are more than 30 scenic spots around the mountain with ancient pine trees, strange stones and spectacular waterfalls.
    Beautiful during all four seasons, this is an ideal hiking and camping area. However, warm clothes are needed as the temperatures at night are very low at the moment.
    Transport: Drive to the mountain via Shenzhen-Guangzhou Expressway, Airport Highway, Jiebei Expressway and G105.
    Shangtianran Hot
    Spring Town, Longmen
    Covering an area of 133 hectares, Shangtianran Hot Spring Town is a high-end Hakka-style hot spring resort in Longmen, Huizhou.
    The resort has the world's largest Hakka roundhouse hotel, which is decorated with bamboo canes. The entire hotel combines the Hakka styles of Guangdong and Anhui provinces, which is rarely seen in the world.
    The hotel has various types of suites and villas, which are ideal for family getaways.
    This year, the park opened two different hot spring pools, which were specially designed for both men and women. One features different fruits for skincare while the other herbal one can help men relax.
    The town also has a museum displaying pictures painted by domestic farmers. It was the first museum founded by companies in Huizhou aimed at showcasing the talents and lifestyles of countryside residents.
    The town also has a "fairy-tale park," which features bases and workshops for Sinology, health, flowers and wedding photography.
    Transport: Drive to the town via Shenzhen-Guangzhou Expressway, Airport Highway, Jiebei Expressway and G105.
    Yihe Hot Spring City,
    Taishan
    Covering an area of 100 hectares, Yihe Hot Spring City in Jiangmen has hotels with more than 1,000 guest rooms, including regular hotel rooms, apartment rooms and child-friendly rooms.
    The resort has various facilities such as conference halls, lounges, bars, cigar houses, business centers, a golf course, indoor and outdoor pools, a tennis court, a soccer field and a basketball court.
    In 2016, the resort will build the first cherry blossom park in the province around Kunming Lake and Yitiange Hill. Lotus flowers will be planted in the lake, making the area an ideal place for cycling and hiking all year around.
    Transport: Drive to Taishan via Guangzhou-Shenzhen Expressway, Dongguan-Foshan Expressway, Pearl River Delta Expressway, G94, S26 and Shenhai Expressway.
    (Wang Yuanyuan)