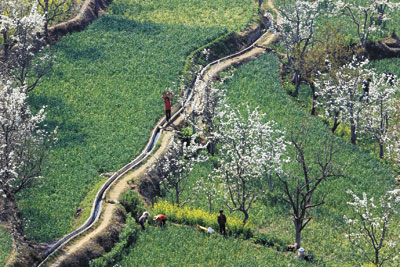 THE long winter will eventually end, and spring will arrive someday. But if you are tired of waiting for sunny spring days and pretty spring flowers, here are some places you can visit to get a jump on spring.
    Hanyuan,
    Sichuan Province
    Located in the west of Sichuan Province, Hanyuan County is a small town surrounded by green.
    In March, pear blossom will be seen in Jiuxiang, a small town in Hanyuan. Known as the "Town of Pears," the small town will be covered in white flowers because the fields and riverbanks are covered with pear trees.
    The annual Pear Blossom Festival will start March 7 this year. During the event, there will be many cultural events and activities such as flower appreciation, flying performance, fishing activities and fruit picking.
    The county also has the best Sichuan peppers in China. The numbing Hanyuan Sichuan pepper is a popular ingredient in Sichuan cuisine. Fresh peppers are available in the winter and you can buy dry ones all year round.
    Hanyuan County is under the administration of Ya'an City, which is also worth visiting. The mountainous areas around Ya'an are the natural habitat for giant pandas. Today the area is home to the Fengtongzhai Nature Reserve and Chinese Giant Panda Preserving Base Bifengxia Station. Both were built for scientific research and panda breeding.
    The entire region has a tea-planting history of more than 2,000 years. Mengding Tea of Mengshan Mountain is an especially high-quality beverage.
    Transport: Fly to Chengdu, capital of Sichuan Province, from Shenzhen airport and take a coach to Hanyuan County.
    Nyingchi, Tibet
    Located along the lower reaches of the Yarlung Zangbo River in the southwestern Tibet Autonomous Region, Nyingchi is blessed with a semi-humid climate and evocative scenery.
    Because of the large number of river valleys and alpine gorges, Nyingchi is sometimes referred to as the "Switzerland of Tibet."
    As soon as you set foot in Nyingchi, you will be struck by the well-preserved forests, cypresses that can grow up to 30 meters and hundreds of rare flowers.
    Nyingchi is especially known for its peach blossoms. In March and April, peach blossoms spread all the way across the gorges and link to the lofty snow-capped mountain peaks. A peach blossom festival is held every year in late March or early April.
    Transport: Fly to Lhasa, capital of Tibet, from Shenzhen airport and take a train to Nyingchi Prefecture.
    Jinchuan,
    Sichuan Province
    Located in the southwest part of Aba Tibetan Autonomous Prefecture, Jinchuan is a small county known as "Jiangnan in Aba."
    Spring is always the best season to visit Jinchuan because of its beautiful pear blossoms.
    The best place to see the snowy blossom is in a small Tibetan village in Sha'er Township. The traditional village was built along the mountains and is surrounded by thousands of pear trees. In the springtime, the pear blossom can be seen everywhere in the village, blending perfectly with the ancient buildings. Local girls often wear the blossoms in their hair and as other adornments.
    Bordering cities such as Ma'erkang, Xiaojin, Rangtang, Daofu and Danba, Jinchuan is an important hub connecting Aba and the rest of the province. Due to its important geographic location and cozy climate, it has always been a central city since ancient times, leaving behind a large amount of historical and religious sites from both Tibetan and Han ethnic groups.
    Top on the list are Jinchuan Leminggalaiyi Monument, known as the No. 1 monument on the highland; Guangfa Temple, one of the four imperial temples in the Qing Dynasty (1644-1911); Guandiao Fortress: known as the "king of fortress in China"; and Tujiqingbo Temple, the second most sacred temple after Potala Palace.
    Jinchuan also has some impressive hotels. Staying at a Tibetan-style local inn is a recommended experience.
    Transport: Fly to Chengdu from Shenzhen airport and take a coach to Jinchuan.(Wang Yuanyuan)