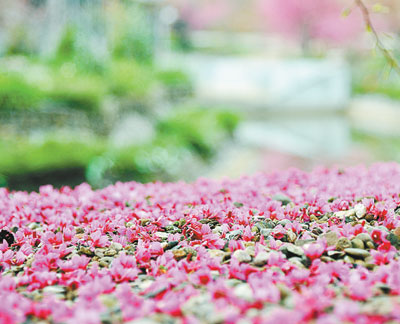 APRIL IN GUANGDONG HAS ALWAYS BEEN THE PROVINCE'S MOST BEAUTIFUL MONTH. TREAT YOURSELF TO A TRIP FILLED WITH NATURAL BEAUTY AND ENJOY GUANGDONG'S AMAZING SPRING WEATHER.
    Cherry blossoms, Shaoguan
    Guangdong Province may not be the most obvious place for cherry blossoms to thrive, but Shaoguan City is the place to go if you don't want to travel too far. The city boasts Cherry Blossom Valley, a place not too far away but as beautiful as another world.
    The trees in the park, which was the province's first agricultural tourist spot to feature cherry blossoms, were planted arbitrarily on hills, by rocks and beside houses, giving the place a more natural style than a nature reserve.
    In April, the park becomes a sea of pink and white.
    Dongshan Village is another place to go. Unlike the park, which is more natural, it is a research area for cherry blossoms. It is an ideal place for couples looking for a romantic trip as it is not yet a busy tourist area.
    Transport: Take a coach to Shaoguan and take a taxi to the two destinations.
    Peach blossoms, Lianzhou
    Lianshou is a small town near Qingyuan City. The home of many peach trees, Lianzhou has many peach blossom farms that cover an area of 800 hectares in Longping and Longtanjiang areas. The type of peach tree that grows in this region is known for its colorful blossoms.
    The best time to see the flowers is from February to mid-April.
    With a long history of over 4,000 years, Lianzhou has been the heart of Taoism in South China since ancient times. Jingfu Mountain Taoist Temple can be traced back to the Southern and Northern Dynasties (386-589).
    Other well-known areas include Lianzhou Underground River, Tanling Lake, Grand Dongshan Hot Spring and Huangchuan Three Gorges.
    Transport: Take a coach to Lianzhou and take a taxi to Longping and Longtanjiang areas.Plum blossoms, Yangshan
    Yangshan is a small town in Lianjiang City and is famous for Shuikou Lianjiang Gallery and Shikengkong Mountain, Guangdong's highest mountain.
    Not many people know that Yangshan is also a perfect place to see plum blossoms. At Pingdong Village in Yangmei Township, there are beautiful white plum trees covering an area of 33 hectares.
    There are also many places to go rafting nearby such as Huanglong Valley, Tianlong Valley, Gulong Valley and Xuanzhen Valley. Visitors can also tour ancient temples at Beishan Mountain.
    Transport: Take a coach to Yangshan and take a taxi to the valleys.(Wang Yuanyuan)