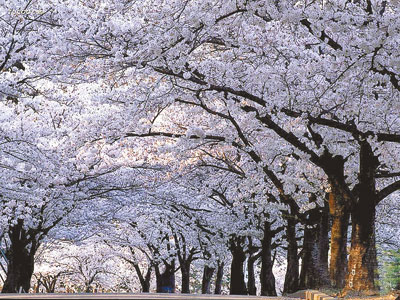 IT is that time of year, when people rush to the beautiful parks and countryside to enjoy romantic cherry blossoms. Here are a few more places to see these short-lived blooms.
    Yuantong Mountain,
    Yunnan Province
    Situated northeast of Kunming City, Yuantong Mountain offers cherry blossoms as beautiful as those in Japan. Every spring, lovers go there to stroll among the pink and white flowers as they dance in the breeze.
    It is also an ideal place for a family trip with beautiful scenery, fresh air and various entertainment facilities.
    March and April are the best months to visit the mountain because thousands of begonia and cherry blossoms are in full bloom during this time.
    Yuantong Zoo on the mountain is home to 140 varieties of animals, such as elephants, gaurs, Mengla tigers, pandas, leopards, eagles and kangaroos.
    The mountain is also known for its traditional and authentic Kunming snacks. Rice noodles and Yunnan-style steamed chicken are must-tries when visiting the mountain.
    Transport: Take a plane to Kunming from Shenzhen airport and take a bus or a taxi to the mountain.
    Zhongshan Park,
    Shandong Province
    Sitting on Taiping Mountain in the east, Zhongshan Park is the largest and oldest park in Qingdao City.
    Cherry Blossom Road is the highlight of the park in the spring. More than 20,000 cherry trees transplanted from Japan decades ago grow along the 500-meter-long road.
    A Qingdao Cherry Blossom Festival is held at this park every year from April 10 to 25. Some of the cherry blossoms will last until May.
    During the festival, the vast areas of cherry trees present a splendid view of blooming flowers and are considered one of the 10 most spectacular sights of the city. It also has cherry blossom activities and offers traditional snacks and cherry blossom-related delicacies.
    The park also has many other flowers in the springtime, including more than 200,000 tulip plants that were imported from the Netherlands.
    Covering an area of 75 hectares, the park contains more than 100,000 plants and over 360 species, including Kentucky coffee trees, medicinal magnolias and some foreign species that are rare in China.
    Transport: Fly to Qingdao from Shenzhen airport and take a taxi to the park.
    Shanghai Botanical Garden,
    Shanghai
    Shanghai Botanical Garden is the largest municipal botanical garden in China and is home to a large collection of thousands of plants, including some rare species.
    The garden has more than 20 types of cherry trees. Unlike many cherry blossom spots that only bloom for a two-week window, the cherry blossoms at the garden can bloom from March to April.
    Most interestingly, the park also has a special type of cherry tree with green cherry blossoms.
    Covering an area of about 82 hectares, the park is a popular spot for locals in the springtime because it is the most beautiful season of the year. Big flower shows are held frequently. Cherry, peach plum begonias and bauhinia are in full bloom at the Rose Garden while peony blossoms, the graceful and fascinating national flower of China, show off its finery at the Peony Garden.
    Other spring gardens include the Azalea Garden and the Magnolia Garden.
    Transport: Fly to Shanghai from Shenzhen airport and take a taxi there. (Wang Yuanyuan)