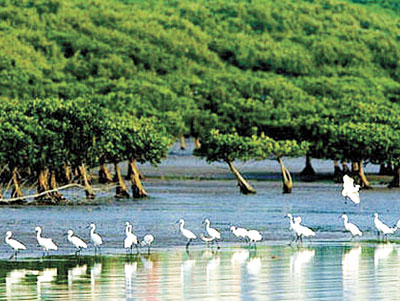 IF you are staying in Shenzhen over the weekend, you don't necessarily need to stay at home and miss all the fun. There are plenty of places in the city that work as short staycations! Here are a few.
    Jinshawan,
    Dapeng New Area
    With a coastline of 133 kilometers, Jinshawan Beach (Golden Sand Beach) in Dapeng, known as one of the eight most beautiful coasts in China, may become free to public in the future. It currently costs an entry fee of 15 yuan.
    Jinshawan got its name because of its stunning scenes at dusk. When the sun is setting, the bay is bathed in the lingering light. Both the sea and the sand glitter with golden sunlight.
    As the best-developed resort in Dapeng, there are many leisure activities and facilities offered at the beach.
    You can enjoy various water fun by renting sailboats, speedboats, motor boats, sailboards, canoes, diving equipment and parachutes. Prices range from 50 yuan to several hundred yuan.
    There are also venues and facilities for beach volleyball and soccer.
    Barbequing and camping at the beach are also popular activities. Tents and other camping gear are available for rent. If you bring your own tent, there is only a 20-yuan service fee.
    There are also many seafood restaurants and local inns in the area.
    When visiting the beach, a special dish called "beggar's chicken" is a must-try delicacy. The chicken is baked in the mud.
    Transport: Go to Shuanglong Station (双龙站) via Metro Longgang Line and go to Dapeng Bus Terminal by bus 818. Take B752 to Jinshawan Resort.
    Julong Mountain
    Ecological Park,
    Pingshan New Area
    Julong Mountain Ecological Park in Pingshan New Area is the largest wetland park in China.
    Covering an area of 641,000 square meters, the park is located at the border of Pingshan and Kengzi. It first opened in 2009, and the second phase of construction was completed and opened in 2013.
    The park was built along the mountains and a river. It is one of the few parks in Shenzhen that are ideal for hiking and cycling.
    The park is also a great place for family fun. Visitors can rent small flower farms to grow their own flowers. Other family facilities include Yanzi Lake, a teahouse, the sculpture platform and children's playgrounds.
    The park also has a bird watching area. Birds such as thrushes, magpies, black-headed birds and red-necked turtledoves are common guests in this area.
    The park is free to the public.
    Transport: Take bus E20 from downtown Shenzhen to Duocaikeji Station and walk to the park.
    Night Market,
    Nanshan District
    Located on Nanshang Road and Dongbin Road, the Nanmenyifang Food Street is an ideal place for a midnight food hunt.
    On this 600-meter-long food street, there are more than 200 restaurants and food vendors offering food from China, Taiwan, Japan, South Korea, and Southeast Asia.
    There are all kinds of food and snacks, such as ramen, barbeque pork, fish balls, Mexican food and smoothies.
    As the first food street in China that cooperates with well-known Liouhe Night Market in Kaohsiung, Taiwan, 50 Taiwanese vendors are here, offering authentic Taiwanese snacks.
    The food street sometimes also organizes folk dances and performances.
    Another recommended spot on the street is a branch restaurant for Hong Kong Hin Do de Kitchen. This award-winning Hindu curry restaurant in Hong Kong is a Michelin one star restaurant.
    Transport: Metro Shekou Line, Coastal City Station (海岸城站). (Wang Yuanyuan)