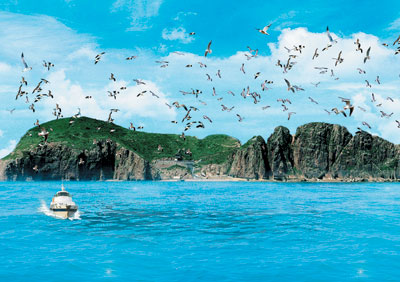 YOU don't need to go to Sanya to enjoy island fun. There are many islands in China that are just as good as Hainan Province. Here are some of our best picks.
    Huadai Island,
    Zhejiang Province
    Located in Xiangshan County in Zhejiang Province, Huadai Island is a unique island known as "the stone forest in the sea."
    Xiangshan is made up of Xiangshan Peninsula and 608 near-sea islands, and Huadai Island is one of the standout attractions.
    With its special geographic structure, Huadai Island earns its name due to being covered with light colored volcanic rock.
    There is a sightseeing platform built on the top of the island, from where you can have a bird's-eye view of the scene under the cliffs.
    There are also some historical sites from the Ming (1368-1644) and Qing (1644-1911) dynasties on the island.
    There are not many good places to spend a night on the island, but you can find a hotel in the nearby Shipu Township. There are many seafood restaurants in the town.
    Transport: Fly to Ningbo, Zhejiang Province, from Shenzhen airport, and take a coach to Xiangshan County. Go to Huadai Island from the Xiangshan Port.
    Jinsha Island,
    Hebei Province
    Located at the Bohai Bay in Leting County, Hebei Province, Jinsha Island is known for its golden sands.
    The sand island has a coastline of about 13 kilometers, covering a total area of 3.25 square kilometers. If you see it from a distance, it looks like a giant golden ship in the blue sea.
    Sand on the island is soft and beautiful, which makes it an ideal place for beach activities such as volleyball.
    The island also has stunning natural scenery. There is a lake on the island and in the middle of the lake is another small island.
    The island is not widely known, so there shouldn't be a crowd of tourists.
    Transport: Fly to Tianjin from Shenzhen airport and take a coach to Leting. Get to the island from Sandao Port in Leting.
    Hailu Island,
    Shandong Province
    Hailu Island is small island located in Weihai City, Shandong Province.
    The island is very popular in the neighboring area as it is home to thousands of seagulls. The island is also called "Sea Cat Island," "sea cat" being a nickname for seagulls.
    Besides the bird fun, the island is also popular due to its rock formations and caves. There are many explorable seaside caves on the island.
    In summer and autumn, the island is also an island of flowers. In autumn, a special golden wildflower will be in full bloom, making the island a golden pearl in the sea.
    Transport: Fly to Weihai from Shenzhen airport and take a bus to Xixiakou Village, from where you can get to the island by boat.
    Juhua Island,
    Liaoning Province
    Juhua Island is located about 10 kilometers away from Xingcheng County, Liaoning Province.
    The island is known for its beautiful scenes and quiet lifestyle. It is a popular resort spot for people to relax and take a break from busy city life.
    There are many famous historical sites on the island, including many ancient temples. Famous spots include Taowang Cave, Babao Well, Shuisheng Pool, Shifo Temple and Dabeige Temple. Tickets from Xingcheng Port to the island is 65 yuan per adult and can be used over seven days.
    Xingcheng County is another worth-visiting place. The city is home to many Buddhist temples and historical sites.
    Transport: Fly to Shenyang, capital of Liaoning Province, and take a coach to Xingcheng County. Take a ferry to the island from Xingcheng Port.
    (Wang Yuanyuan)