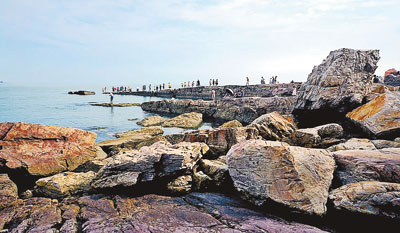 YOU don't need to go to Sanya to enjoy island fun. There are many islands in China that are just as good as Hainan Province. Here are more of our best picks.
    Chongming Island,
    Shanghai
    Chongming Island, the third-largest island in China, lies at the mouth of the Yangtze River. With an area of about 1,200 square kilometers, it is the perfect place for a back-to-nature weekend for busy metropolitans.
    The island has rich forest and water resources, including the well-known Chongming National Geographic Park. East of the island is the East China Sea, while in the south, Chongming Island faces Pudong New Area, Baoshan District in Shanghai and Taicang City in Jiangsu Province across the river. Seperated by water, Haimen City and Qidong City of Jiangsu Province are to the north of Chongming Island.
    The island also has many historical sites. Among them is the famous Chongming Academy. The academy is one of the only existing academies in the Shanghai region. Known as Chongming Museum today, it is a well-preserved site to learn about the academic history and culture in the Jiangnan region.
    Catching crabs along the river bank is also a popular activity for family trips.
    Transport: Fly to Shanghai from Shenzhen airport and go to Wusong Port by a taxi. Get to the island via the port. Other ports available in Shanghai include Shidongkou Port and Baoyang Port.
    Xiyang Island,
    Fujian Province
    Located in the southeast part of Futian Province, Xiyang Island is a beautiful island that is not well-known.
    The name Xiyang means Western in Chinese. It is said that in ancient time, many fishermen saw foreigners on the island when their boats passed by. They thought that the island must belong to a foreign country, so they named the island Western Island.
    In fact, the island has belonged to China for thousands of years, but it was once a popular place for foreign merchants and fishermen to live and stay due to its important location on the sea.
    Besides its "foreign background," the island also has many historical sites related to coastal defense.
    The island's beaches are not to miss. The island has more than 10 beaches. Among them are the two most famous Guiwo Beach and Beiwo Beach. The two beaches have high-quality sand and crystal-clear water, which is ideal for swimming and sunbathing.
    Seafood on the island is also recommended.
    Transport: Fly to Fuzhou, capital of Fujian Province, from Shenzhen airport or take a high-speed train to Xiamen from Shenzhen North Railway Station. Take a coach from either Fuzhou or Xiamen to Ningde City and take a taxi to Cheng'ao Port. Get to the island from ferries at the port.
    Changdao Island,
    Shandong Province
    Located between Jiaodong and Liaodong peninsulas in Shandong Province, Changdao Island is made up of 32 beautiful islands.
    Known as a "fairy mountain on the sea," the island has rich natural resources including numerous caves, cliffs and beaches that are ideal for families and hikers to explore and enjoy.
    It is also an ideal place to learn about maritime animals.
    Well-known tourism spots include Jiuzhang Cliff, Temple Island, Longzhua Mountain, Baota Rock, Pearl Gate and Tuoji Island.
    It also has a long history of fishing and Mazu worship (a fairy that is said to protect fishermen on the sea). There are many ancient Mazu temples that still keep the ancient traditions and customs.
    The neighboring city, Penglai, is also a must-see spot due to its rich historical resources of ancient Chinese sea culture. You can rent a boat and go sea fishing with local fishermen. Most of the smaller islands can not be accessed easily. But you can go to visit via special ferries or boats.
    Transport: Fly to Jinan, capital of Shandong Province, from Shenzhen airport and take a coach to Penglai Port. Take a ferry to the island from the port.(Wang Yuanyuan)