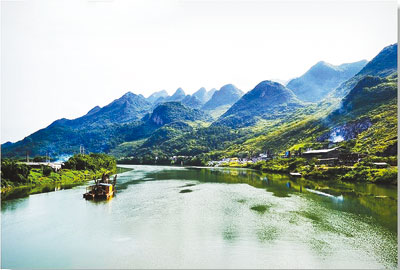 HOW long has it been since you last enjoyed a summer trip with stunning natural scenes?
    It is said that Guilin City in the Guangxi Zhuang Autonomous Region has the best scenery in the world, but you don't necessarily need to flock to the city to experience the beautiful Chinese mountains and rivers. In Guangdong, there are many places with reputations of being "Little Guilin." Here are two outstanding ones.
    Fengwan, Shaoguan
    Shaoguan is one of the coolest cities in Guangdong Province with beautiful mountains and rivers, and an average temperature of about 28 to 29 degrees Celsius in the summer. There are many fun places to explore in Shaoguan, and Fengwan is a treasure not widely known to the public yet.
    Located in Xincun Village and Shifeng Village, Fengwan is made up of several mountains.
    Similar to Guilin, there are rocks and hills in different shapes and sizes. The most interesting ones include Lion Rock, Boat Mountain, Shixie Ruin and Rongshan Temple.
    Fengwan also has a hot spring reportedly containing a special chemical that helps relax your muscles and improve your immune system. The Fengwan Spa Resort also has a barbecue, a karaoke parlor and other entertainment venues.
    Another recommended spot in Fengwan is the Chayuan Mountain Yao Ethnic Village. The village has many bamboo chutes, rare in other parts of the province. Living in a busy metropolis, nothing feels better than taking a few days off and walking in the quiet bamboo woods during the hot summer.
    There are also many ethnic activities and events in the village.
    Dragon fruit is a must try when visiting the area from May to October.
    Transport: Take a coach to Shaoguan from long-distance bus stations in Shenzhen and take a taxi to Fengwan.
    Yangshan, Qingyuan
    Yangshan is a small town in Qingyuan City and is famous for its Shuikou Lianjiang Gallery and Shikengkong Mountain, Guangdong's highest mountain.
    With a history of more than 2,000 years, the city is a famous getaway destination in the Pearl River Delta region. Sharing the same geographic formatting (a Karst landform) as Guilin, the small town has numerous caves in different sizes and shapes, which are worth exploring.
    Among the caves is the most famous Shenbi Cave. Known as "Zhangjiajie in the Cave," Shenbi Cave has an underground river that is ideal for rafting. There are many famous outdoor rafting places in Qingyuan, but none of them are as challenging and special as this underground experience.
    Shuikou Lianjiang Gallery is another recommended spot in Yangshan. It is about 10 kilometers from Yangshan with scenic mountains, ancient village houses and green fields. It was called "a natural gallery" by the painter Guan Shanyue.
    The Dubu Flyover on Qingyuan-Lianjiang Expressway is another exciting spot for drivers as it is described as "a roller coaster in an ancient Chinese painting."
    There are also many rafting places in neighboring areas which are great for summer fun. On the list are the famous Huanglong Valley, Tianlong Valley, Gulong Valley and Xuanzhen Valley. You can also experience a tour of ancient temples in Beishan Mountain.
    When visiting Yangshan, local delicacies are something that you can not miss. Qingyuan chicken is some of the most delicious chicken in China. You can enjoy an all-chicken meal at many local restaurants. River fish is also recommended.
    Transport: Take a coach to Yangshan / Lianjiang from Shenzhen major bus stations like Luohu Bus Station, Futian Bus Station, Yinhu Bus Station and Longgang Bus Station.(Wang Yuanyuan)