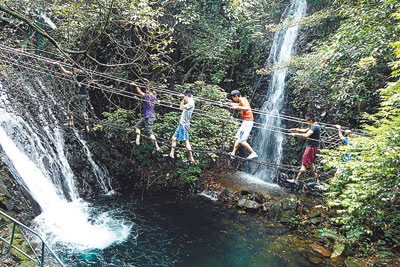 NOTHING feels better than having some water fun in the hot summer. Here are some recommended South China spots.
    Gulong Valley, Qingyuan
    As a national 4A scenic area, Gulong Valley is known as one of the best rafting spots due to its rafting facilities that can be used for international competitions.
    In 2016, its competition tracks were upgraded. The brand-new track is about 6.1 kilometers long with a height difference of 378 meters, which is the largest in the country. Maximum speeds can reach 72 kilometers per hour.
    Gulong Valley has many ancient trees with long branches along the river banks, providing shade throughout the river in the valley.
    There are also many local eateries in the neighborhood, which offer authentic local cuisine. When visiting Qingyuan, trying its chicken is a must. Recommended chicken dishes include steamed chicken, chicken stew and chicken with soy sauce.
    Other local dishes include river fish, goose, bamboo shoots and wild pig.
    Transport:
    Drive to the valley via the Guangzhou-Shenzhen Expressway and the Guangzhou-Qingyuan Expressway.
    China Resources Xiaojing Bay,
    Huizhou
    Located along the coastline of Xiachong Township, Huizhou City, Xiaojing Bay is a real estate property from China Resources Property Limited which has a combination of hotel, residential condos and entertainment facilities.
    Its resort area has a beach that is about 3 kilometers long. The beach is known for its high-quality sand and crystal-clear water, which is ideal for a fun family trip.
    Water facilities include yachting, a maritime jet, jet skis and speedboats.
    There are painting rooms and parks available for children.
    About 5 kilometers away is the Qutou Mountain Green Track, which is ideal for a relaxed cycling trip.
    Seafood is a must-try here. Visitors can by fresh seafood at neighboring seafood markets. Many local restaurants offer services to cook seafood for visitos.
    The hotel has more than 200 rooms. There is also a large camping area within the resort.
    Transport:
    Drive to Xiaojing Bay via the Guangzhou-Huizhou Expressway and the Huizhou-Shenzhen Yanhai Expressway.
    Nanbo Bay,
    Hainan Province
    Located in Lingshui County, Hainan Province, Nanbo Bay is a perfect place for those who enjoy a quiet and relaxed getaway.
    Because the area has not been developed yet, there are few visitors to the area.
    A recommended activity is to rent a bike and ride along its 3.9-kilometer coastline.
    Because of its special geography, there are many places to explore, such as a beach with strange looking rocks, an area with volcanic rocks and a beach with titanium sand.
    The titanium beach is surely the highlight of Nanbo Bay, which is called "black golden beach." It is said that lying on the beach is good for your health.
    The bay also has the country's most complete coral reefs. Diving equipment is available for rent so you can explore the colorful underwater areas.
    Seafood hotpot and seafood barbecue are recommended.
    Transport:
    Fly to Sanya from Shenzhen airport and take a coach to Nanbo Bay.
    (Wang Yuanyuan)