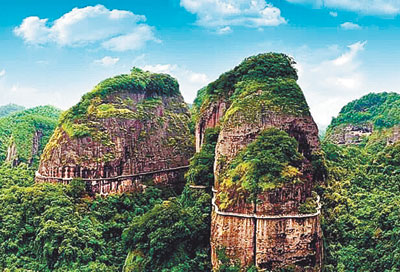 Transport: Drive to the mountain from Shenzhen via the Guangzhou-Shenzhen Expressway, Guangzhou-Heyuan Expressway, Heyuan-Meizhou Expressway and Pingxing Expressway.
    TIANMEN Mountain in Zhangjiajie has made its name around the world not only for its spectacular views but also for its thrilling glass-bottomed walkway. In fact, you don't need to travel that far to experience this thrill. There is a place in Guangdong that provides the same experience.
    Located in Pingyuan County, Wuzhishi Mountain (Five Fingers Rock Mountain) is about 88 kilometers away from the city of Meizhou. The scenic area covers an area of 16.8 square kilometers and has 36 rock mountains in different shapes and styles.
    On Oct. 1, 2013, a glass-bottomed walkway was officially opened to the public. The highest spot of the walkway is about 200 meters above the ground. As the No.1 "sky walkway" in the province, you can have a magnificent bird's-eye view around Guangdong, Fujian and Jiangxi provinces.
    Starting from Guifei Valley, the glass walkway is about half a meter wide with a cliff over head and valley underneath. Although it is only about 100 meters long, people have been known to break down crying or begin crawling across the walkway in fear.
    Besides the glass walkway, the mountain also has a 3-kilometer-long sky walkway. It is built along the cliff and provides an overview of the entire area and three provinces. It is the highest mountain walkway in the province.
    The mountain also has stunning scenes with beautiful karst rocks.
    It is known for the Wuzhishi (Five Fingers Rocks). Visible in the distance, the rocks look like five fingers of a human hand.
    The mountain has the famous five "stranges" and eight scenes. The five "stranges" are strange rocks, strange lines, strange trees, strange caves and strange branches, and the eight scenes include Sword Gate, Shilin Temple, Smart Spring, Hunyuan Pavilion, "Thread of Sky," Fairy's Bed, Longwu Temple, and Qingyun Road.
    Other famous spots include the Tanjing Residence and Butterfly Valley.
    The neighboring areas also have many worth-visiting places.
    Songkou Ancient Town is one of four well-known ancient towns in Guangdong Province. With more than 1,000 years of history, the town is one of the roots of Hakka culture.
    Although it is a typical Hakka town, it has a style similar to the water towns in Jiangnan area. It is worth a day's visit and relaxing after a long hike on Wuzhishi Mountain.
    Known as the "green heart of Meizhou," the ancient town also has beautiful natural scenes with a waterfall, springs and forests.
    Another worth-visiting place is Jiuling Village, the world's seventh village of longevity. The village has many seniors. Many people believe it is because of its fresh air, healthy natural water and beautiful scenery.
    Round houses can also be seen in many villages in the Wuzhishi Mountain area. A lot of villages have many well-preserved round houses with villagers living quiet and traditional farming lives. Some of the villages have not been developed for tourism purposes yet, perfect for those who seek a relaxing and culturally rich trip.
    Hakka cuisine is famous in China. There are many local delicacies worth trying. Topping the list are salted chicken, steamed chicken, crystal pork with preserved vegetables, and pork soup.
    Popular souvenirs include Hakka rice wine, dried beef, Dapu Kuding tea, and preserved vegetables.
    (Wang Yuanyuan)