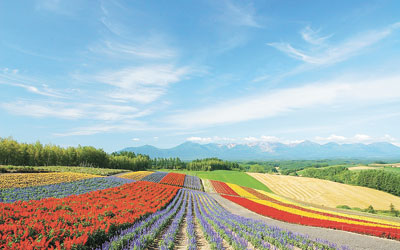 "LONELY Planet" magazine recently revealed its selection for the "Best in Asia 2016," listing 10 Asian cities that are worth exploring. Shanghai is included among the cities, which is ranked 2nd on the list. In this and next week, we will take you to a tour around these 10 cities to find the "best in Asia."
    Hokkaido, Japan
    A well-known tourist destination in Japan, Hokkaido is selected as the No.1 city to travel in Asia by the magazine this year due to its perfect snow and beautiful island landscapes that vary every season.
    Located in the northernmost area of Japan, Hokkaido has beautiful and romantic powdery snow when the temperature goes down to under 0 degree Celsius. The snow is soft and disappears when you touch it.
    Many people know that Hokkaido is a place to go for winter fun, but not many people know that it is also a well-known resort in the summer.
    Hokkaido's year-round charms include: "a wild, mountainous landscape that begs exploration on foot, bike or motorbike; alpine villages where you will stumble upon hidden onsen; and sumptuous seafood," the magazine commented.
    Con Dao Islands, Vietnam
    Con Dao Islands are comprised of 15 islands of different sizes. Con Sao Island is the largest among all the islands.
    Covering an area of 20 kilometers, it used to be called Ile Poulo Condore by Europeans, which means Island of the squashes.
    Although the islands only have 7,000 residents, it is considered a modern city and is full of old-fashioned French architecture.
    Listed as one of the "Top 10 Most Romantic Travel Destinations" by the magazine in 2011, the Con Dao Islands are known for its romantic and stunning beaches, magnificent coral garden, wildlife-rich tropical forests and gorgeous white-sand coves.
    Hong Kong, China
    Situated right next to Shenzhen, Hong Kong is always the most popular travel destinations for Shenzheners due to its rich culture, delicious cuisine and great shopping.
    However, this year the magazine focuses more on its natural heritage — the UNESCO-designated geopark, a 50-square-kilometer region to the northeast of the city.
    The park contains Sai Kung town and ancient rock formations which are connected by a shuttle bus. The two areas feature eight scenic spots that showcase the landforms of Hong Kong. A ferry service at the park also leads you to Lai Chi Wo Village. This once-deserted village now has a new lease on life with eco-tours and cooking workshops run by locals. (Wang Yuanyuan)
    Shanghai, China
    Shanghai is called "the center of the universe" by Lonely Planet. It is selected due to its stunning city scenes and rich historical culture.
    A city of fast development, Shanghai has a lot for visitors to do, such as "ballroom dancing in parks, sipping delicate brews in old teahouses, or bolting platefuls of vinegar-soaked dumplings," the magazine said.
    It is the combination of modern city life and old Chinese scenery that makes Shanghai the top 2 city to travel, and the newly opened Disney resort has also raised the city up to another level of fun.
    Jeonju Island, South Korea
    One of the best-preserved ancient villages in South Korea, Jeonju Island is a UNESCO World's Cultural Heritage site that represents the most authentic of Korean cultural traditions.
    In the middle of the city, there are hundreds of wooden villas with gracefully upturned roofs housing an intriguing assortment of museums, teahouses and artisan workshops, which is the landmark of the city showcasing traditional South Korea.
    The magazine also describes the city as a top foodie destination. A UNESCO crowned "City of Gastronomy" in 2012, it is the birthplace of the most famous Korean dish — bibimbap, an arrangement of vegetables on rice, topped Jeonju-style with bean sprouts, mung bean jelly and beef tartar.